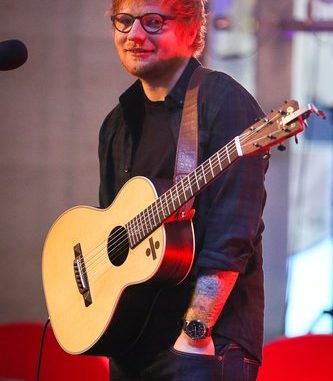 The songwriters behind TLC's 1999 megahit "No Scrubs" are now listed as co-writers of Ed Sheeran's No. 1 hit "Shape of You."
On the website for performance rights organization ASCAP, Kandi Burruss, Tameka Cottle aka Tiny and Kevin Briggs have been added as co-writers of "Shape of You," co-written by Sheeran, Steve Mac and John McDaid.
"Shape of You" is currently on top of the Billboard Hot 100 chart. Representatives for Sheeran and ASCAP didn't immediately respond to emails from The Associated Press seeking comment.
Burruss and Tiny were members of the R&B girl group Xscape. Burruss, also a reality star on Bravo's "The Real Housewives of Atlanta," posted about the news Sunday on her Instagram page.
"To be a part of such a great song is a blessing," Tiny, in an email to The Associated Press, said of being added to the "Shape of You" songwriters.
Last year The Chainsmokers' ubiquitous No. 1 hit, the Grammy-nominated "Closer," extended writing to two members of The Fray because of similarities to the band's 2005 hit, "Over My Head (Cable Car)."
In 2015, a jury awarded Marvin Gaye's children $7.4 million after finding Robin Thicke and Pharrell's "Blurred Lines" copied their father's hit "Got to Give It Up." A judge later cut the verdict to $5.3 million.
That was the same year Sam Smith gave Tom Petty and Jeff Lynne writing credit on his Grammy-winning hit "Stay With Me" after some said it sounded like Petty's 1989 song, "I Won't Back Down," and Mark Ronson and Bruno Mars, for their worldwide, Grammy-winning "Uptown Funk," extended credit to the five writers of Gap Band's 1979 hit "Oops Upside Your Head."
"Shape of You" has spent almost two months at No. 1 on the Hot 100. The song set the record for the most one-day streams on Spotify with 10,123,630 streams.
"No Scrubs" had a big pop culture moment in the late '90s. It also reached No. 1 on the Billboard Hot 100 and earned a Grammy for TLC.