1.

Today Netflix released the first trailer for Death Note, its live-action film adaptation of a popular manga series of the same name.
Shall we begin? #DeathNote

— Netflix US (@netflix)
The original Death Note tells the story of a Japanese high school student named Light Yagami who one day stumbles upon a "Death Note," a notebook that kills anyone whose name is written in it. Armed with the supernatural killing device, Light begins executing criminals in what he believes is an attempt to rid the world of evil. Soon the mass murders draw the attention of an eccentric detective named L, who's keen on hunting down the person responsible.
The manga, which debuted in Japan in December 2003, has since been made into a well-known anime series, four live-action Japanese films, a television drama, and even a musical — among other adaptations.
2.

The upcoming American movie — directed by Adam Wingard (You're Next, The Guest, Blair Witch) — stars Nat Wolff, Margaret Qualley, Lakeith Stanfield, Paul Nakauchi, Shea Whigham, and Willem Dafoe.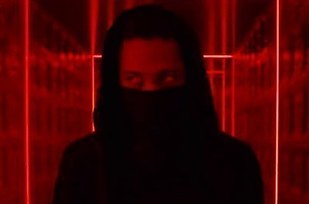 3.

Not long after the trailer dropped, some fans of the original franchise took to Twitter to criticize Wingard's remake, accusing it of "whitewashing" a Japanese story.
I'm honestly so sick of the whitewashing of all these properties. It's ok to have POC as leads in movies 🙄#DeathNote #stopwhitewashing

— Alexis Jones (@thequeeningold)
it honestly hurts me so much that Death Note is going to get a bad, whitewashed american adaptation. this anime/manga means so much to me.

— Eva (@alius_alia)
6.

They likened it to Paramount Pictures' treatment of Ghost in the Shell.

Paramount Pictures

Ghost in the Shell, which was also adapted from a Japanese property, sparked controversy after Scarlett Johansson was cast as the film's protagonist, a character who is Japanese in the source material. In Ghost in the Shell, Johansson plays a cyborg in charge of a counter-cyberterrorist task force in a fictional Japanese city.
NETFLIX IS GOING TO RUIN DEATH NOTE AND I AM SICK OF THIS WHITE WASHING BULLSHIT! FIRST GHOST IN THE SHELL NOW THIS

— 👨🏾‍💻 (@ALSTON2008)
First ghost in the shell gets whitewashed, and now death note.

— Mitchell Knox (@mk919973)
Ghost in the Shell Live Action: we will be sure to destroy anything that made the original so well renowned

Death Note: hold my beer

— Kemono Hazu (@Hazukari)
10.

But unlike Ghost in the Shell, which apparently still takes place in Japan, Wingard's remake of Death Note is set in a new locale.

Wingard's version of the Death Note story now takes place in Seattle, not Tokyo. The antihero at its center has also been renamed Light Turner, and the character Misa Amane is now Mia Sutton, who will be played by The Leftovers actor Qualley.

This treatment is comparable to Gore Verbinski's reimagining of The Ring — a remake of the 1998 Japanese horror film Ring — and Spike Lee's redux of Park Chan-wook's Oldboy.
Americans don't go see Japanese horror films in huge numbers. We just don't. So producers remake them. Sometimes really well too.

— Scott Weinberg (@scottEweinberg)
A remake is not a replacement, nor do the filmmakers believe it should be. Not good filmmakers, anyway.

— Scott Weinberg (@scottEweinberg)
13.

Some people argue that, since Wingard's Death Note is a remake for American audiences — an adaptation set in the US — it isn't a case of "whitewashing."
Like, it's not white actors playing Japanese characters in Japan, it's white actors playing characters re-written as Americans.

— Calamity Adam (@TehLazyArtist)
@Jhoratio @bdsmith1986 it seems they've adapted the property to take place in the US. It makes sense, this isn't whitewashing.

— Cam :] (@GoonLink)
16.

But others don't buy it: They take issue with the film's implication that "American" means casting white leads rather than American actors of Japanese descent.
People arguing that the whitewashing in #DeathNote is okay because "it's for an American audience." So do Japanese-… https://t.co/05tzww6n5q

— Raffy Ermac (@byraffy)
@ubeempress Where do these people think all the AAPI people live? As if no one of Asian descent has ever lived in S… https://t.co/RiQ2wbH7iW

— Mr. J (@MahlenasGuide)
"ok but it's AMERICAN"
"set in SEATTLE"
"Ryuk is BLUE so what's your point"
"did you consid–"

— Clara Mae (@ubeempress)
20.

A major criticism is the whiteness of the cast (though, Stanfield plays L and Nakauchi plays Watari).
This is suppose to be an American version of the story but why does American= white? #DeathNope https://t.co/YGVJcH2LgU

— Nerdy & Boujee (@XaremiCharm)
Watching that Death Note trailer and seeing that Light Yagami will be played by a white guy.

— droo (@7ensei)
Netflix: Death Note
me:

— sassy pants (@hanjo_twt)
@netflix

— morgan (@hyungbam)
Y'all really gon scream "But it's AMERICAN!" in defense to Netflix's Death Note?
Y'all DO know "American" aint synonymous with whyt, right?

— /rā•vē•rā/ (@raveyrai)
26.

They saw it as a missed opportunity for Netflix to cast Asian-Americans and another instance in which whiteness is centered.
This Death Note adaptation is a reminder that Hollywood will put time & effort into rewriting POC stories so that whiteness is centered

— Clara Mae (@ubeempress)
[email protected] When none of the people who created the story are represented in the film 👏👏👏

— Euna Park (@eunapark)
I would hope, at some point, people will learn that just recasting Asian people in a remake isn't enough.

— Jon Tsuei (@jontsuei)
We're people, we have stories and a history that is also part of the stories that make up America (and other respective countries).

— Jon Tsuei (@jontsuei)
31.

On the other hand, some people were happy with the new cast, particularly Dafoe and Stanfield's roles.
On the positive side for the Death Note live action, I'm 99% sure Willem Dafoe will slay his role as Ryuk

— RYAN (@RYANlME)
Yo @stanfield_keith is perfect for L. Dude is verrry L. Excited for that. #deathnote

— FLYLO (@flyinglotus)
33.

Netflix did not respond to BuzzFeed News' request for comment. The filmmakers did address some fans' concerns about casting months ago.

In June of last year, producers Roy Lee and Dan Lin told Collider that they believe their vision of Death Note is authentic to the "story's concept of moral relevance a universal theme that knows no racial boundaries."
"Our vision for Death Note has always been to bring this captivating story to the screen for its longtime manga fans and to introduce the world to this dark and mysterious masterpiece. The talent and diversity represented in our cast, writing, and producing teams reflect our belief in staying true to the story's concept of moral relevance — a universal theme that knows no racial boundaries."
34.

What do you think? Is it complicated, or not really? Weigh in below.
Check out more articles on BuzzFeed.com!