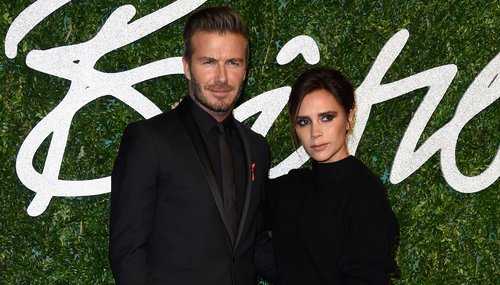 Victoria Beckham has opened up in the British edition of Vogue magazine, about the moment she fell for David Beckham.
The fashion designer shared details about their romantic first meeting in a letter to her younger self titled, "What I wish I'd known," for the October issue of the fashion mag.
"And yes, love at first sight does exist," Victoria wrote. "It will happen to you in the Manchester United players' lounge – although you will get a little drunk, so exact details are hazy."
Victoria went on to share that as she watched David from across the way, she found they had something in common – closeness to family.
"While the other football players stand at the bar drinking with their mates, you will see David standing aside with his family. (He's not even in the first team at this stage – you are the famous one.) And he has such a cute smile," she wrote. "You, too, are close to your family, and you will think how similar he feels to you."
The Brit also revealed something quite romantic — David still has the piece of paper she gave him her number on.
"He's going to ask for your number. (He still has the London-to-Manchester plane ticket on which you wrote it.)," she revealed.
Victoria and David said "I do" in July 1999.
The October issue of British Vogue is out on September 8.