"I just quietly wept behind the monitor in awe."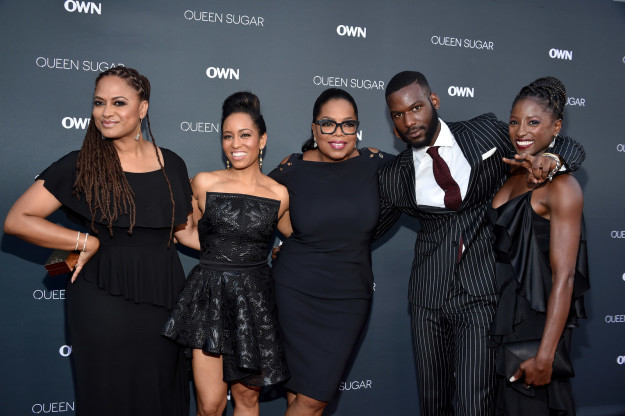 Mike Windle / Getty Images
For two seasons, Ava DuVernay has hired only women to direct her OWN series Queen Sugar. "Hollywood is a patriarchy. It's built for men by men, and women and POC are seen as addendum to that," DuVernay told BuzzFeed News. "It is a struggle to insert your voice into a paradigm that isn't checking for you."
So after directing the first two episodes of Season 1 herself, DuVernay pulled together a badass brigade of female directors who she felt had the skills necessary to embellish and expound on the show's narrative. "These women had made gorgeous, lush, robust, beautifully nuanced independent films that they'd raised up from nothing, from an idea in their minds. They'd actually put these films up on their feet, produced them, toured them in film festivals around the world, won awards for them, but couldn't get a job directing an episode of any television show," DuVernay said. "I'm talking the worst bottom-of-the-barrel television you can think of — they couldn't get a meeting. That is wrong."
DuVernay's effort wound up changing that for the women she brought behind the lens. "Our directors have gone on to direct everything from Luke Cage to Transparent to American Crime," she said. "If anything, Queen Sugar proves the point of the unjust inequality of the hiring practices in Hollywood."
The female directors DuVernay has brought aboard for Season 2 are all new, with the exception of Kat Candler. In honor of the second midseason premiere, BuzzFeed News spoke with several of the directors to find out what happened during the making of this season's most memorable scenes so far.
Season 2, Episode 2 — "To Usward"
Directed by Cheryl Dunye
"I definitely wanted the camera to push through the crowd, so we really had to build up enough folks to have that feeling where she's trying to find him and he's trying to find her. I wanted Micah to totally collapse in her arms and for her to embrace him. It was a wonderful night shoot. We had a great bunch of extras. Rutina brought it from every angle. I was amazed at the power and the energy everyone gave again and again.
"Because Armstrong Park, where we shot the scene, is sacred ground, you're not allowed to bring cars onto it, or cranes, etc. So I decided we'd put the police cars in the back so we could feel them. And I figured in postproduction, we could add sound. Then, while we were filming, two cop cars drove by naturally with their sirens on. It was meant to be. They gave us what we needed to make that feeling of police presence happen. It's one of my favorite scenes from that episode." —Cheryl Dunye
---