"The Chew" co-host Daphne Oz visited Access Hollywood Live on Monday and shared three recipes from her new cookbook, "The Happy Cook."
Warrior Waffles
Makes 6 waffles
Ingredients:
1 cup sweet white rice flour (see note)
3/4 cup almond flour
1/3 cup cornstarch
1/3 cup ground chia seeds or flaxmeal
1/3 cup protein powder (I like unflavored or vanilla pea-orwhey-based options)
2 teaspoons baking powder
1/2 teaspoon kosher salt
4 large eggs, separated
1 1/2 cups buttermilk, plus more to loosen the batter
2 teaspoons pure vanilla extract
2 tablespoons granulated sugar
4 tablespoons (1/2 stick) unsalted butter, melted, plus more for the pan
Warrior Waffles from Daphne Oz's 'The Happy Cook' (Amy Neunsinger)
Preheat the oven to 250°F. Heat a waffle iron to high heat.
In a medium bowl, whisk together the rice flour, almond flour, cornstarch, ground chia seeds or flaxmeal, protein powder, baking powder, and salt.
In a separate medium bowl, beat all 4 egg yolks, the buttermilk, and the vanilla. Stir the buttermilk mixture into the dry ingredients, mixing just until combined. Batter should look like traditional pancake batter, so add a little bit more buttermilk or water if it is too thick a paste.
In a stand mixer fitted with the whisk attachment (or a large bowl if using a hand mixer), beat 2 egg whites on medium speed until they are frothy, 30 seconds to 1 minute. Reserve the remaining egg whites covered in the refrigerator for up to 2 days. Slowly start to sprinkle in the sugar and increase the speed to medium-high until the whites hold stiff peaks.
Whisk one-fourth of the beaten whites into the batter, then fold in the remaining beaten whites. Continuing to slowly fold the batter, drizzle in the melted butter.
Using a dishtowel or brush dipped in melted butter, lightly coat the waffle iron and, following the manufacturer's instructions, fill the mold without overflowing. Cook until browned, then transfer to a baking sheet to keep warm in the oven while you make the remaining waffles.
Almost Mongolian Beef Satay
Makes 12 Skewers
Special Equipment
12 wooden or metal skewers
Satay
1/2 pound flank steak
3 tablespoons low- sodium soy sauce
2 teaspoons cornstarch
1 tablespoon dark brown sugar
3 garlic cloves, minced
1 teaspoon toasted sesame oil
1 lime, cut into small wedges for serving
Satay Sauce
1/4 cup ketchup
1 tablespoon honey
1 teaspoon Sriracha sauce
1/2 teaspoon kosher salt
Freshly cracked black pepper
Almost Mongolian Beef Satay from Daphne Oz's 'The Happy Cook' (Amy Neunsinger)
If using wooden skewers, place them in a pan and cover with water. Let soak for 20 minutes while you make the recipe.
To make the satay, place the steak on a cutting board. Holding a chef's knife at a 45-degree angle to the cutting board, slice the steak against the grain so you end up with twelve 1/4-inch-thick and 1 1/4-inch-wide strips. Don't fuss too much; you just want meat that is thin enough to thread easily on the skewers and cook quickly.
In a medium bowl, mix 1 tablespoon of the soy sauce with the cornstarch until it is completely dissolved. Add the remaining 2 tablespoons soy sauce, the brown sugar, garlic, and sesame oil. Add the beef slices, turn to coat, cover, and refrigerate for at least 20 minutes or overnight.
To make the satay sauce, in a small bowl, whisk together the ketchup, honey, Sriracha, salt, and pepper to taste.
Line a baking sheet with foil. Remove the steak from the marinade and blot it dry with paper towels. Thread 1 piece of meat onto each skewer and set them on the prepared baking sheet.
Adjust an oven rack so it is 3 inches from the heat source and preheat the broiler to high. Brush both sides of the skewers with the satay sauce and broil the satay for about 3 minutes, or until browned. Turn the skewers and broil 2 to 3 minutes to brown the other side.
Serve the satay with lime wedges.
TIP: This recipe works great with chicken breast or pork cutlets.
Better Brownies
Makes 24 mini brownies
1 large sweet potato
One 15-ounce can black beans, drained and rinsed
3 tablespoons unsalted butter, melted
2 large eggs
1/2 cup packed dark brown sugar
1 teaspoon pure vanilla extract
1/2 cup semisweet chocolate chips
1/3 cup hot coffee
3/4 cup unsweetened cocoa powder
1/2 teaspoon baking soda
1 teaspoon kosher salt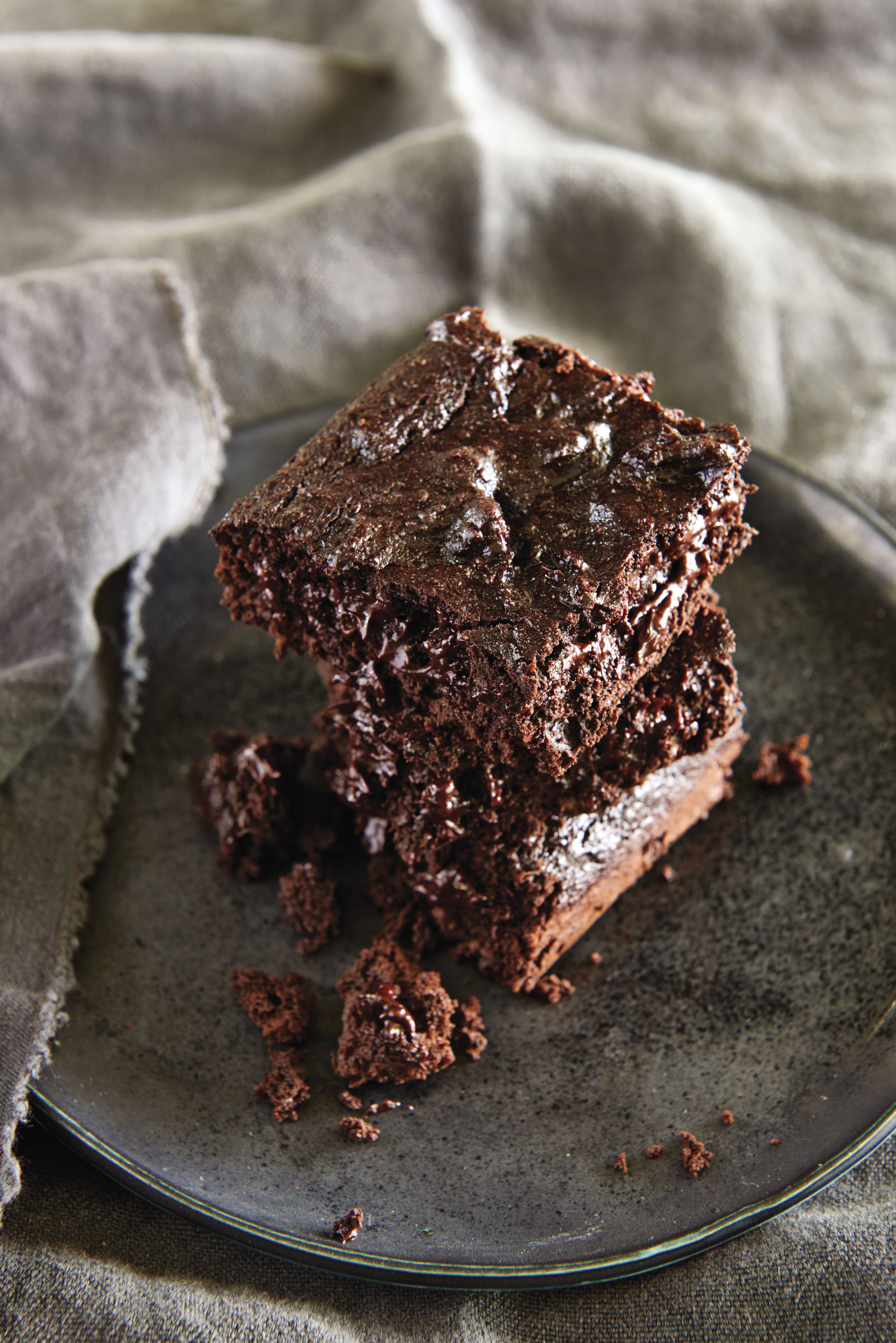 Better Brownies from Daphne Oz's 'The Happy Cook' (Amy Neunsinger)
Preheat the oven to 350°F. Lightly coat 24 cups of a mini- muffin tin with 1 tablespoon melted butter.
Puree the black beans in a blender or food processor until smooth and creamy. Measure ½ cup of black bean puree and reserve the remaining for use with tacos or nachos or as black bean dip. Prick the sweet potato a few times with a fork and microwave until it is completely soft and tender, about 7 minutes. Scoop out the flesh, set 1 cup in a large bowl, and add the black bean puree. Whisk in the melted butter, eggs, brown sugar, and vanilla.
Add the chocolate chips to a small bowl and pour the hot coffee on top. Stir until melted, then add it to the sweet potato mixture.
In another bowl, combine the cocoa powder, baking soda, and salt. Add the cocoa mixture to the sweet potato mixture and stir just until combined.
Use a spoon to fill the muffin cups three- quarters full (you'll have enough batter for 24 mini- muffins). Bake for about 12 minutes, or until a cake tester inserted into the center of a brownie comes out with a few moist crumbs attached and the brownies resist light pressure. Let the brownies cool in the pan for 5 minutes, then turn them out onto a wire rack to cool. Repeat with any remaining batter. The brownies will keep in an airtight container for up to 3 days.