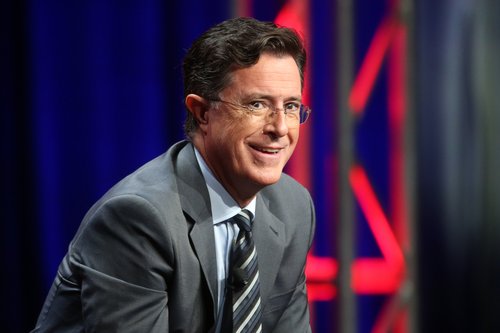 Stephen Colbert has been tapped to host this year's Emmy Awards.
The "Late Show" funnyman will emcee television's biggest night next fall, CBS announced on Monday. A nine-time Emmy winner himself, the gig marks Stephen's first time headlining the broadcast.
Calling Stephen "the ultimate master of ceremonies," CBS Entertainment's Executive Vice President Jack Sussman issued a statement sharing enthusiasm for the funnyman to bring his "award-winning creative talents" and "fearless passion for live television" to the Emmys.
"We look forward to honoring television's best while entertaining audiences with the creative energy and sharp comedy of Stephen Colbert," the statement read.
Television Academy chairman and CEO Hayma Washington also weighed in, saying in a statement that the organization is "thrilled" to begin working with the "formidable showman."
Although the ceremony is almost eight months away, Stephen used topical humor while responding to the big news.
"This will be the largest audience to witness an Emmys, period," he joked in a statement, referencing White House Press Secretary Sean Spicer's remarks about the presidential inauguration crowd. "Both in person and around the globe."
Stephen has nine Emmys to his credit, including six for his work on Comedy Central's "Daily Show" spinoff "The Colbert Report."
The 69th Primetime Emmy Awards will air live from the Microsoft Theater in Los Angeles on Sunday, Sept. 17 at 8 PM ET/5 PM PT on CBS.