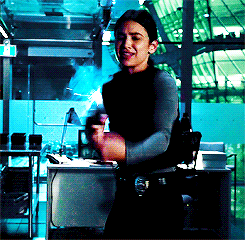 1.

HOLY SHIT. HOLY SHIT. HOLY SHIT. First of all, this post is filled with spoilers, don't say I didn't warn ya. Secondly: LET'S DISCUSS THE ABSOLUTE PERFECTION THAT WAS LAST NIGHT'S EPISODE OF SUPERGIRL. AND YES I AM SCREAMING.
3.

But last night, the gay gods blessed us so hard and tbh, Sanvers single-handedly saved 2016.
6.

So then, after the coming out to mom part, it was back to Maggie 'n Alex stuff. But Maggie got shot.
7.

Which led us to our second blessing of the night: Maggie in a hospital bed looking like this…
11.

Now I will basically break it down second by second.
14.

Then Maggie says she almost died and Alex was like, ha, like I would let that happen.
15.

And then the clouds parted and the lights from the heavens shined down upon us and Maggie said "life is too short."
21.

But it wasn't over cause Alex still had to do this adorable thing to Maggie's hair.
22.

And then kiss some more.
24.

In conclusion part 2: THANK YOU GAY GODS BUT ALSO REALLY THANK YOU SUPERGIRL WRITERS AND CREATORS.
25.

And if anyone asks how many times I'll be rewatching this scene, here is my answer:
Check out more articles on BuzzFeed.com!