When Big Los was deported from Texas to the Mexican border city of Matamoros, Tamaulipas, in 2015, he was worried.
He'd released a rap track a few months before, "Alto Calibre," boasting of the exploits of the Chilango, an incarcerated member of the Gulf Cartel. The man behind bars had been a major figure in the Mexican city of Reynosa, which is roughly 50 miles inland from Matamoros. The two cities have long been bastions of factions of the Gulf Cartel, and while those groups sometimes get along, they sometimes don't.
Ruje un pinche Corvette ZR1 / se bajá él chilango anda armado hasta él culo / Bien paletoso trae un reloj julbo / Con la pinche super dice ábranse o los fumo.
A fucking Corvette ZR1 engine roars / The Chilango steps out armed to the teeth / Real dapper, wearing a flossed-out watch / With the fucking gat he says, "Open up or I'll smoke you."
Big Los is a recognizable figure, known as much for his gruff voice and gun-toting music videos as his massive physique, reminiscent of Big Pun or the Notorious B.I.G. After arriving in Matamoros, Big Los immediately felt he'd be a target for the rival clique who controlled the city, so he said he called someone connected to the cartel, "a friend of a friend."
Big Los
Nathaniel Janowitz
"I told him, 'I don't feel comfortable in the streets, man, everyone seems to know me,'" said Big Los in February. "'I don't want to get picked up because I did a song for a certain guy over there. And there's an internal war between you guys.'"
The rapper was no stranger to Matamoros: He'd actually been born there before his family illegally migrated across the border to Brownsville, Texas, when he was a child. As a teenager, growing up in a rough part of Brownsville, he sold drugs and eventually ended up in jail. After release, he found rap music, and used it as a way to leave the streets. (He was deported to Mexico in 2015 after he tried to apply for US citizenship.)
While many rap artists look at the money and fame that comes from their music as an escape from the hardships of their lives, narco rap is an exception. The primary feature of the Spanish-language hip-hop subgenre is that drug cartel members pay rappers to make songs about their lives, called "dedications," thus actually inviting hardship in. Big Los, one of the pioneers of narco rap, admits he regularly gets death threats via social media from people claiming to be contrarios — members of enemy cartels.
Starting in the '80s and '90s, artists combined the accordion-filled traditional corrido genre with this practice of telling boastful tales of drug traffickers in Mexico, and narcocorridos are still wildly popular today. However, in the last decade, a modernization of the practice has flourished in rap music, specifically concerning the Gulf Cartel along the Texas-Tamaulipas border, in tandem with cartel infighting and the Mexican government's crackdown on gang violence and drugs. And now narco rap is spreading rapidly to other criminal groups throughout Mexico, like the Zetas and the Sinaloa Cartel, and the MS-13 in El Salvador. It's also cropped up in Spanish-speaking communities in the US with narco rap songs delivered in English for the Latin Kings in Chicago and the Sureños in Los Angeles.
Big Los made it clear he isn't a member of the Gulf Cartel, nor does he actually know the majority of the people he makes songs about. He receives messages through social media or text message explaining what the people want him to say about them; he checks that the songs have been approved by cartel bosses; then he makes the tracks for a fee.
And as one of the biggest-name narco rappers in the biz, Big Los makes the most money per song: around $3,000, and another $3,000 per video. Rapper 5050 (pronounced in the Spanish Cincuenta Cincuenta) charges $500. Lirik Dog, a Reynosa-based narco rapero, told me, "I'm one of the cheap ones," charging $200 per dedication.
"You gonna be right there in front of me when they're shooting me? No, motherfucker. So it is what it is."
"I can have it done in an hour. I can write a song in 15 minutes," said Lirik Dog, smiling. With a price so low and a velvety flow, he has no problem staying busy, claiming he doesn't know how many songs he's written. He knows one producer of his has at least 900 of his tracks; he estimates he's done at least 1,000. "If I did anything for another group, the people here would fuck me up. So I never do it, I only do it for the same group." Like the others, he says threats like "they're gonna cut out my tongue" are common.
Big Los also said tensions rise when the cartel members want more "heavy shit" out of the rappers who rhyme about them — mostly threats toward contrarios. So he has to hedge his bets and his words whenever it comes to his subjects and their enemies. "You gonna be right there in front of me when they're shooting me? No, motherfucker. So it is what it is," he said. He insisted that his benefactors understand he's simply looking out for himself, as they need to do as well during these violent times.
With the song "Alto Calibre" he faced a similar issue. He released what he called "the dirty version" with his brother and fellow rapper Chino in which he warns that when the incarcerated member leaves prison, "sé los va a cargar la verga" — which could be translated, approximately, as "he's going to fuck you all up." Because "Alto Calibre" was about a guy in Reynosa, "I had to go talk to the main boss over there in Matamoros and present myself," Big Los said, sitting in his home studio in McAllen, Texas, while he rolled a joint. He also asked permission to perform a concert and to live there. The boss obliged, and after that, Big Los said life in Matamoros was "lovely." He went on to film what may be his most popular solo video for "Alto Calibre" — a six-and-a-half-minute epic that would make Ron Isley proud, featuring speaking scenes of a madrina, or madame, and her stable of sex worker surrounded by high-calibre weapons — and he removed the offensive line.
After a year in Matamoros, Big Los said, he was smuggled back into the United States in 2016 through a special transit point where only high-level cartel members cross the border. He's back in Texas, trying to sort out his legal status, continuing to make songs for the Gulf Cartel. But while in Matamoros, Big Los recorded one of his biggest hits with another narco rapero, 5050.
The song wasn't a dedication, but rather a hood love ballad called "Amor Malandro." Both artists, Big Los and 5050, have appropriated the word "malandro" — which translates best as "thug." Big Los released an album of dedications, called Dedicaciones Malandros. 5050 has "Flow Malandro" tattooed on his neck and chest in bold letters.
5050, "Malandro Graduado"
Ando alterado con El Kike por un lado
Negro el mercado de droga lo tengo saturado
El celular sonando, mi gente conectando
Y me siguen llamando, más dinero estoy contando
I roll wild with my homie Kike by my side
The black market, I overflowed it with the drugs
My phone's ringing, my people are connecting
They keep calling me, I keep stacking cash
One of 5050's most well-known narco rap songs is 2016's "Malandro Graduado" ("Graduated Thug"). Although this song is another dedication, it could easily be a metaphor for 5050 himself, whose life has never been far from the cartel.
5050 grew up in a tough part of Matamoros while his mother worked for meager wages in one of the city's numerous maquiladoras, factories that produce cheap exports mostly destined for the US. At 16 he went to work in a maquiladora as well, lasting only six months before he decided to hit the streets like his friends in 2007. He spent two years working as a puntero — a corner boy.
After two years, he took over a punto. It was during this time he began rapping and recorded a song about life on the streets. A friend of his heard it and asked him to make his inaugural dedication in 2010. "The first song I did was for one of my homies that worked with me," said 5050. "But this kid's dead now … He was an assassin."
The song was "Escorpion 41," which was his friend's code number in the Scorpions, a military-styled cell of the Gulf Cartel that controlled Matamoros at the time.
"Then I started to do songs for heavier people, higher-ups," he said, claiming he's made 340 songs since then, 250 of which were dedications, many of which live online on YouTube, "from the bosses of the plaza to the guards, from the highest guys to the lowest."

The customized gold-plated handgun of Jaime Gonzalez Duran, a.k.a. "Hummer", founder of a group of hitmen called the "Zetas", shown to the press at the hangar of the Federal Police in Mexico City, on November 7, 2008. Gonzalez worked for drug trafficker Osiel Cardenas Guillen, a.k.a. "El Mata Amigos" (The Friends' Killer).
Alfredo Estrella / AFP / Getty Images
The Gulf Cartel is one of the oldest gangs in the country, with origins tracing back to the Prohibition era; it expanded into cocaine in the '80s and '90s. But the Gulf Cartel is perhaps most infamous for drug lord Osiel Cárdenas Guillén, whose reign turned Tamaulipas into arguably the most dangerous state in Mexico.
When Cárdenas took control of the cartel in the late '90s, he recruited a number of Mexican military deserters to form his own army-like death squad, known as the Zetas. After Cárdenas was arrested in 2003 and extradited four years later, the Gulf Cartel faced an uncertain future, as 2007 was also the same year then-president Felipe Calderón began using the Mexican military to battle organized crime. In the 10 years since Mexico's government declared war on the country's drug cartels, more than 150,000 people have been murdered and roughly 28,000 people have disappeared.
"I've said a lot of things, unforgivable things."
By 2010 the Zetas broke away from the Gulf Cartel, now controlled by Cárdenas's brother, Antonio Cárdenas aka Tony Tormenta, who created his own death squad called the Scorpions. The Zetas and Gulf Cartel went to war over Tamaulipas, the military was at war with both; Tamaulipas was a war zone.
When the military gunned down Tony Tormenta in an eight-hour firefight on November 5, 2010, in Matamoros, 5050 had already released several tracks about the Scorpions and the Gulf Cartel — a death sentence if he were ever found by the Zetas.
"I've said a lot of things, unforgivable things," said 5050, fidgeting uncomfortably at a Matamoros restaurant. "There's people that hate me, they won't forget. So I can't leave."
It took two days to track down 5050 after he missed our initial meeting, ignoring repeated phone calls and text messages. When we finally met, days later, his eyes were bloodshot, and he talked a mile a minute about problems in his personal life as he steered through the nighttime Matamoros traffic in his PT Cruiser. Hours later, eating tacos on the outskirts of the city, he'd admit he'd been lost in a three-day bender on cocaine, crack, and crystal meth.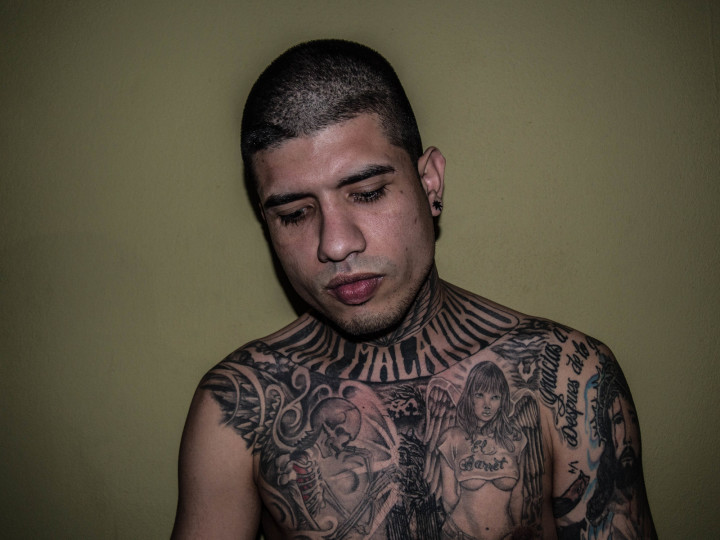 5050
Nathaniel Janowitz
But in Matamoros, 5050 has struck a chord with the city's young population, as a self-admitted hood malandro hollering out street ballads, a local 2Pac. At the restaurant, people called out his name; walking through the city's historic center after midnight two young men came running down the street after 5050 asking for a photo. Even with his local fame, he feels unable to leave the city even to Reynosa, let alone another state.
"I'm trying to make other kinds of songs, so that I can leave to be a commercial rapper, but it's really difficult," said 5050, who along with soulful street dedications like "La Vida Es Un Riesgo" and "Mi Testamento," also makes club trap ballads such as "Ando En La Disco." "They're always going to see my songs on YouTube, and consider me a narco rapper."
Narco rap can be traced back to the song "El Tigre" by MC Babo, a member of Mexico's most well-known gangster rap clique, Cartel de Santa: It's believed to be the first dedication for a member of the Gulf Cartel, released around 2009. Although Cartel de Santa has stayed away from making additional narco rap tracks, the genre was quickly taken up by hip-hop duo Cano and Blunt in Reynosa, and Mexican Boy in Matamoros, who all began the proliferation of dedications around 2010. However, the most famous and popular rappers to emerge on the scene are Big Los and 5050.
Unable to leave the city without looking over his shoulder, 5050 remains in Matamoros as the Gulf Cartel he raps for has become less and less powerful. "After the señores were taken down, things destabilized," said 5050. "There were bosses who knew how to control the crime, there was less violence, less kidnappings."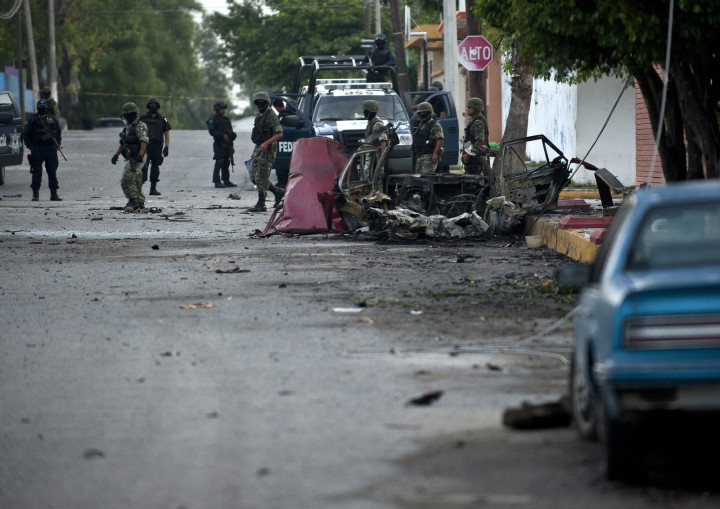 Soldiers surround a burned car pictured in front of Televisa TV network after a car bomb exploded with no casualties, early Friday in the northeastern city Ciudad Victoria, Tamaulipas state on August 27, 2010. The Gulf of Mexico drug cartel has been engaged in a bitter turf war for control of Tamaulipas smuggling routes into the United States with the Zetas drug cartel. AFP PHOTO/Ronaldo Schemidt
Ronaldo Schemidt / AFP / Getty Images
The fragmentation of the Gulf Cartel is a prime example of the failure of the Mexican government's two-pronged strategy for combating organized crime; taking down high-level old-school señores, while deploying federal security forces to areas where the violence is out of control.
As narco rap began in the region, so did the violence — the Mexican government claims that between 2010 and 2016, more than 4,900 people were murdered in Tamaulipas and the state led the nation in the number of people disappeared as the Gulf Cartel fractured into various warring cliques, as well as fought off its hyper-violent offspring nemesis, the Zetas. The government numbers are widely believed to have been underestimated as well, as atrocities accumulated in the state, such as the mass murder of 193 people in the town of San Fernando in March 2011, and the discovery of numerous makeshift graves throughout the state. Local journalists hardly report on the violence any longer due to threats to their lives, and not many sane observers of the Mexican drug war would argue Tamaulipas isn't the country's most silenced state.
And while the death of Tony Tormenta eventually led to the end of the Scorpions, they didn't become extinct; they've morphed into the Cyclones, a clique still affiliated with remaining members of the Cárdenas Guillén family that controls Matamoros.
The September 2011 death of Samuel Flores Borrego, aka Metro 3, in Reynosa is considered the end of the Gulf Cartel's old-school capos. An iconic figure within the Gulf Cartel, he is mentioned repeatedly in narco rap songs. The circumstances of his death, believed to be a double-crossing between Matamoros and Reynosa, caused a split within the Gulf Cartel still felt today.
Lirik Dog, "Comando X"
Bien encapuchados y vestidos de negro
Con lanzagranadas, R's y chingo de cuernos
Comando X limpia el terreno
El cartel del golfo donde quiera es el bueno
Hooded up, and dressed in black
With grenade launchers, assault rifles, and a fuck ton of AK-47s
Commando X is cleaning up the land
The Gulf Cartel, wherever it is, it's the good one.