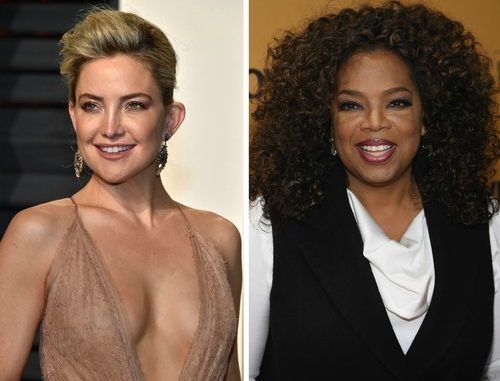 Kate Hudson has given Oprah a special shout-out.
The actress got candid about her fitness secrets in a new interview with Vogue, revealing the media mogul as her ultimate inspiration for body positivity.
"I'm going to give the really obvious answer to that, which to me is Oprah," Kate told the fashion mag. "I just think she is forever, that woman."
The 37-year-old went on to explain why she believes in realistic expectations and an understanding of the body's tendency to go through ups and downs – an experience Oprah has kept well-documented over the years through her own weight-loss journey.
"You want to do the healthy thing, but you know what? Women fluctuate. We give birth to children and carry them and breastfeed them, some of us. We are busy and we're trying to work," Kate said. "Women's bodies are very different than male bodies; the way that we store fat is different, and the way that we lose fat is different."
While Kate acknowledged the multi-tasking challenges many women face every day, she also stressed the importance of staying the course no matter what.
"We're always trying to keep up – and then some of us give up, which is what we don't want to do," she added.
Maintaining an open mind and a variety in her routine have also reportedly helped Kate learn what works best for her.
While the mom of two credited Pilates as her go-to exercise regime, her Instagram feed also reveals a love for hiking, dance classes and other ways to stay on the move. She's also not afraid to mix it up when it comes to her diet. According to Vogue, Kate has experimented with both the Paleo and vegan lifestyles, along with regularly limiting gluten, sugar and dairy.
But, that doesn't mean she's not up for a cheat treat every now and then.
"If I happen to be at a restaurant and they send out dessert, I'm going to eat the dessert," Kate confessed. "And if Mario Batali whips up a pasta, I'm not going to say no!"