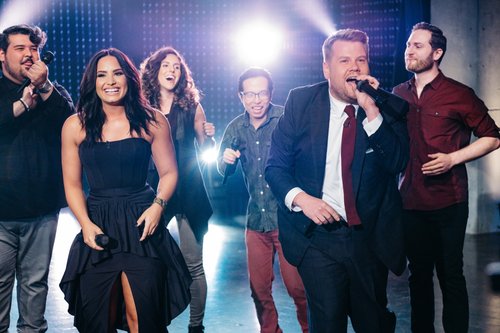 James Corden got schooled on Wednesday night's "The Late Late Show with James Corden" after having a "Divas Riff-Off" with guest Demi Lovato.
The singing skit began when the late night host told his audience that "divas back then were better than they are today," mentioning stars like Aretha Franklin and Whitney Houston.
His comments prompted guest Demi Lovato to come out onstage early to tell James he was wrong, and eventually challenge him to the "Riff-Off." Demi brought out a cappella group Level to help out.
Demi went first, belting out Adele's "Rolling In The Deep," but James countered with his rendition of Ike & Tina Turner's "River Deep Mountain High."
After a little fun banter between the two, James took on Aretha's "R.E.S.P.E.C.T." and Demi responded with Katy Perry's "Roar."
When James pointed out Demi was singing other people's songs, and had, "none of your own, Lovato," Demi launched into one of her mega-hits – "Heart Attack." She dropped her mic after finishing the powerful performance and made James pick the mic back up for her.
"That was incredible. … You win," James conceded before the two ended the segment with a duet of Gloria Gaynor's "I Will Survive."
Check out all the fun, below.