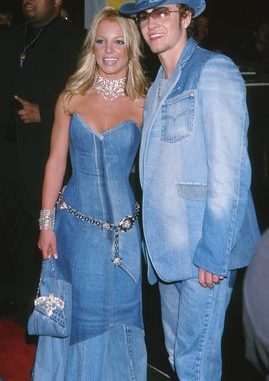 Justin Timberlake doesn't forget a fashion faux pas.
During an appearance on Australian talk show "The Project" this week, the singer revealed which infamous style choice from his past has since become a memorable lesson.
"That if you wear denim-on-denim, it will get documented," he said to a roar of laughter, when asked what he's learned about the entertainment industry since his *NSYNC days.
Justin was referring to his and then-girlfriend Britney Spears' matching outfits from the 2001 American Music Awards, which featured both stars, still just teens at the time, in coordinating outfits made entirely of denim.
"You know what? I don't think even I could bring that back," Justin continued, before giving the notion more thought.
"I'm going to go out on a limb and say that if it's worn properly, denim-on-denim could be [brought back]," he told the hosts.
And, some have tried.
Katy Perry made an attempt with her 2014 MTV VMAs ensemble, paying homage to Britney's strapless patchwork dress alongside Riff Raff, who copied Justin's denim tuxedo and fedora.
When considering which celebrities he thinks could pull off the look, however, Justin revealed where he would draw the line.
"Not Donald Trump," he joked with a smile.