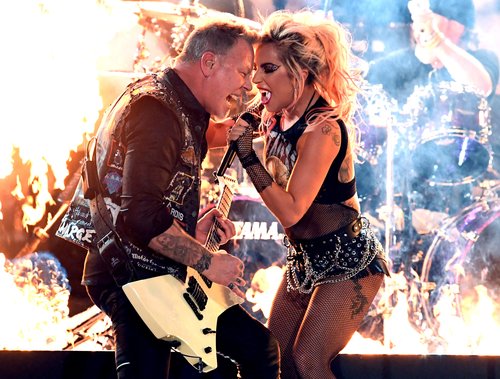 The gremlins keep showing up at the Grammys, but there was no do-over for Metallica after its frontman's microphone failed during the group's performance with Lady Gaga.
James Hetfield was singing at the start of the performance, but no audio was coming from his microphone.
Lady Gaga's vocals came through loud-and-clear while Hetfield's microphone continued to malfunction during the early part of the performance.
It didn't stop the high-octane show, which featured heavy metal and flames shooting up from the stage.
Hetfield eventually moved over and shared Lady Gaga's microphone until the issue was fixed.
The mishap occurred just minutes after Adele stopped and restarted her tribute performance to late singer-songwriter George Michael. And it comes a year after Adele encountered audio difficulties during her performance after a microphone inside a piano fell on the instrument's strings.
At the end of the performance, Hetfield tossed his guitar offstage.