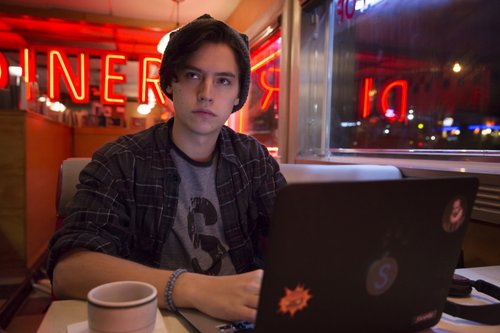 Not enough of Cole Sprouse's Jughead for you in the season premiere of The CW's "Riverdale"? Not to worry, more of the character is on the way when the show returns on Thursday night.
"You'll probably end up getting sick of Jughead's character," Cole told Access Hollywood over the phone on Wednesday. "You see a lot of Jughead in the following episodes."
When we mentioned that fans have expressed an interest in seeing more of Jughead , Cole explained that the two brief scenes featuring Jughead in last week's pilot episode were intentional and part of creating mystery.
"You're supposed to wonder what's going on with the guy behind the scenes," Cole said. "I'm very flattered that people want to see more of the character I'm playing, and they will end up seeing more of the character that I play. But, he's still supposed to hang near the back and watch. He's still very much the observer."
Archie Andrews' (KJ Apa) estranged best friend Jughead is the narrator of the series, filling the audience in on vital information about what's going on in Riverdale, and in particular, the reactions to the death of Cheryl Blossom's twin brother – Jason Blossom. He's also, as was revealed in the pilot, documenting the investigation in a novel he frequents Pop's to write.
But, could that novel writing and documentation of the case lead to trouble for Jughead in the small town?
"He's directly involving himself within the murder in a really proactive way by writing all about it. And he spares absolutely no details," Cole said. "He ends up implicating even people that he's close to, and I think that's not only a jeopardizing thing for him as a possible target for someone's anger and aggression and even the killer, but it's also a socially damaging thing, in which the people who are around him and who he otherwise would have never suspected before Jason's death, are now also being implicated. And so, he has an active role in [people possibly] getting caught and I think that puts him in a sort of strange place."
Another strange place Jughead is in – the one with childhood best friend Archie Andrews. The two fell out for an as-yet unexplained reason. There was a short scene in Pop's diner in last week's premiere where Jughead noted their estrangement, and mentioned he overheard Archie's now on the Riverdale Varsity football squad.
"The way that the friendship works in this as opposed to the old digest is that Archie and Jughead are not just friends for friends' sake," Cole said, describing how the two characters are now, versus in the comics they were inspired by. "And even in the digest, they're two severely contrasting personalities, and I think in this we very much ask the question [of] whether these two contrasting personalities, in a more realistic high school setting so to speak, could even be capable of maintaining a friendship through the years. … I think that's what we end up exploring between Archie and Jughead in many ways throughout the next 12 episodes."
While we don't know exactly what Archie did to hurt their friendship (in the premiere, when giving Archie advice about Betty, Jughead suggested talking would have gone a ways toward helping repair things), is there an opportunity for Jughead to forgive his former best pal?
"I think so. I personally do," Cole told Access. "The way that Jughead is written is he's very severe about his moral stances, but I think he's also a character that has a firm understanding of choices that people make and why they make those choices and whether it was because of their own personal biases or because of some problem that they have with Jughead. So, I think his ability to understand objectively the town itself through his writing of the novel is also his ability to understand his friendships and how people react to him.
"So, I think if it's genuine and honest, then Jughead does have the capacity to forgive. But that question is well-phrased because that's exactly what we want people to ask between Archie and Jughead and Jughead and any of his other relationships," Cole continued. "Jughead is a character that in the time that Archie and Jughead fell out, a lot of wrong happened to him and we'll end up exploring that in the following episodes. And his narrative arc of this season — aside from the main narrative arc of Jason's murder — is very much does Jughead have the capacity to forgive or forget or externalize in an emotional way? Or, is he just going to be trapped in within this internalization of these things that have happened to him? And I think that's something that the fans are really going to enjoy."
"Riverdale" continues Thursdays at 9/8c on The CW.