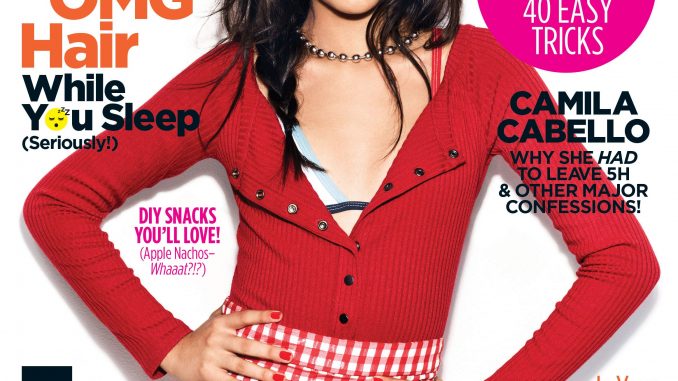 Camila Cabello is cheering on her former Fifth Harmony bandmates.
In a cover interview for Seventeen's March/April issue, Camila told the mag that she sends the remaining members "all the best" as she pursues her solo career.
"I'm happy they are continuing their journey as Fifth Harmony," Camila said, adding that she's "looking forward to hearing new music" from the girls, both individually and as a foursome.
(James White/Seventeen)
The "Bad Things" singer went on to explain why her new projects are helping her feel more creatively fulfilled, promising that listeners will be able to sense the difference.
"Fifth Harmony wasn't the maximum expression of me individually," she told the glossy. "My fans are really going to know me from the music I'm writing. My goal is to be brave and open up my soul."
However, when it comes to the romantic inspiration behind her music, Camila revealed that art doesn't necessarily imitate life.
"Even though I'm 19, I've literally never had a long-term relationship," she admitted. "So when I show people my songs, they're like, 'Who's this about? I've never seen you with a boy ever.' I make all of these fantasies in my head. There's this constant theme of unrequited love and me loving people from afar."
She may not yet draw from real-life experience, but Camila does reportedly rely on famous pal Taylor Swift as her go-to source for "boy advice."
According to the mag, Camila said she and the "1989" hitmaker clicked because of their similar outlooks.
"The reason we became friends was purely because we think the same way about a lot of things," Camila said of the pop superstar. "We're both really sensitive and emotional when it comes to love. We love love, and we love writing songs about love."
While Camila values Taylor's wisdom when it comes to personal matters, Seventeen reports there's another pop star with whom she's hoping to collaborate in the studio.
"Ed Sheeran. He's incredible at putting love, emotion and feeling into words," Camila said. "I would love to see him go into a room and watch how he makes his magic. He always talks about how he loves making songs from the heart, and that's something that I've pushed myself to do in my songwriting process, too."
Camila parted ways with Fifth Harmony publicly back in December, four years after they placed third on Season 2 of "The X Factor." Last month, the group gave its first performance as a quartet during the People's Choice Awards.