Benedict Cumberbatch took on interviewer duties for a new cover story on pal Tom Hiddleston, but the "Sherlock" actor skipped one particular question.
Tom is featured on the cover of the new issue of Interview magazine (due out on newsstands on Oct. 4), and during the Benedict-Tom interview, a headline-making topic came up and was quickly avoided.
"And there's another weight of us being in the public eye, which is this presumption that, because your work and your promotion work is very public, your private life should be, too. And, without getting into a huge debate, I just want to say that I'm not going to ask questions about my friend's personal life just because there are unsolicited photographs of him and a certain someone, in a relationship or together. I'm not going to get into that. So that door is closed, dear reader," Benedict said to Tom.
"Thank you," Tom replied.
While the two thespians didn't touch on Tom's relationship with Taylor Swift (which recently came to an end), Benedict did tackle some personal topics with his pal, including asking him about his fears.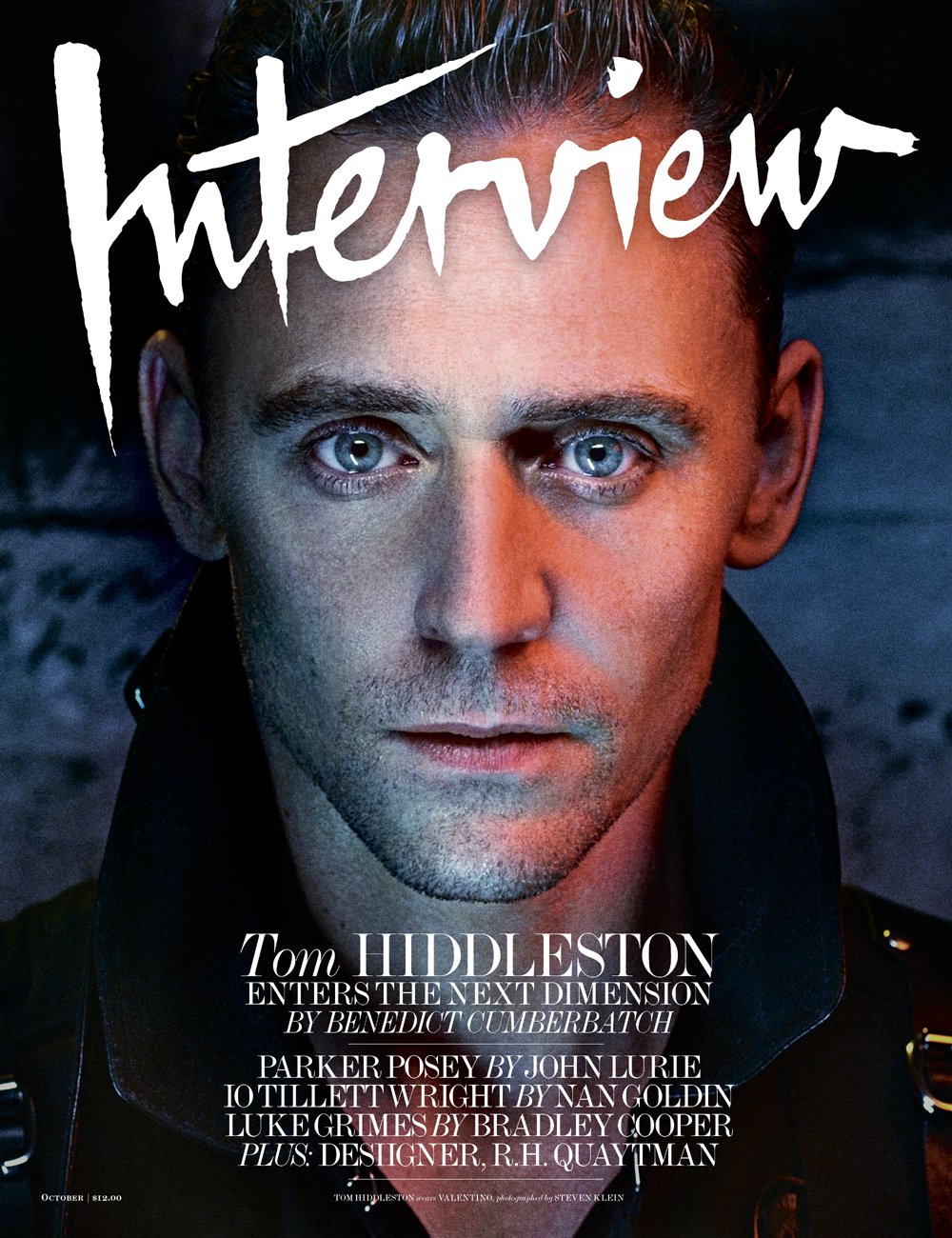 Tom Hiddleston (photographed by Steven Klein) on the cover of Interview magazine's October 4, 2016 issue (Steven Klein/Interview Magazine)
After Benedict complimented Tom on being "very attentive to what's in front of you," he asked his fellow actor if he has "a fear of anything that could get in the way of that." As Tom thought of his answer, Benedict shared his own response.
"Passing time," the "Doctor Strange" star said. "And that is purely from becoming a father, wanting to have a little bit more of it every day, having something outside of me that's more important than me to focus on. That was a rude awakening, the minute he was born. And every time I hold him, to look at something that new and look at this 40-year-old me in the mirror going, 'Wow, I really want to be around to see your children.'"
"Mine is similar. Mine is regret," Tom said. "I fear looking back and wishing I had done things I hadn't. It's interesting, I read this extraordinary article about a book, many years ago, by an Australian nurse who is a specialist in palliative care. It was her job to help people on their way out, to ease their pain. So she spent a lot of time with people in their last days and weeks. And she felt so moved by the accumulated experience, because she heard people say such similar things. Weirdly enough, at the top of the list was, 'I wish I hadn't worked so hard.'"
Tom also opened up about his love of running (something he's been pictured doing) when Benedict asked if he has a "spiritual dimension" to his "daily life."
"You've got to do something, even if it's just to kick-start the day. I use music," Hiddleston said. "And running. I find that, when I'm working, if I start the day with a run — outside, not in a gym, but just me out there in the elements, with only my own legs to propel me forward … It's something to do with just being in the world and getting out of my own head."