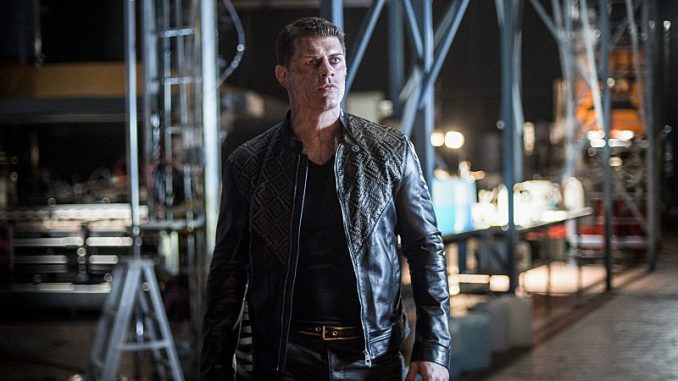 "Arrow" welcomes a special guest to its third episode of the season on Wednesday night – wrestling star Cody Rhodes.
Cody, who faced off with "Arrow's" own Stephen Amell at WWE's SummerSlam in 2015, makes his debut in Star City, playing villain Derek Sampson.
"Cody was amazing. He's a joy to work with," "Arrow" Executive Producer Marc Guggenheim told reporters at a screening of the episode on Tuesday.
Cody Rhodes as Derek Sampson in 'Arrow' season 5, Episode 3 (The CW)
Cody's character, Derek, is flooding the streets of Star City with a designer drug named Stardust (his real wrestling name), and Oliver has to get his new team involved to fight the situation.
In his role (and there is a twist), Cody will impress as Derek, Marc said.
"I think people who go into this episode expecting to see a professional wrestler in an acting role are going to be really blown away by the quality of his acting. I think he really holds the screen incredibly well and he's charismatic and an enormous amount of fun," Marc said.
And, yes, there will definitely be a matchup between the Green Arrow and the villainous newcomer.
"Arrow" continues Wednesday at 8/7c on The CW.