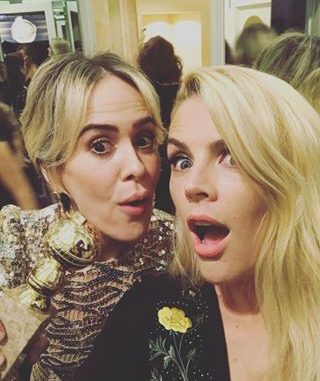 1.

The line for security personnel to check cars for weapons was insanely long and someone had propped up a giant Bible next near the line of vehicles.

Ariane Lange / BuzzFeed

It credits Jesus for writing the Bible? I don't know!
2.

The announcer who talked to the audience during commercial breaks had a voice full of desperation.

"Do NOT miss the opening; you'll want to be in your seats!" he told the crowd before the show began. "Live television in just over two minutes. Please find your seats," he begged. He would go on begging for quiet during every commercial break, at one point saying, "Please cooperate with us." It was sad!
3.

Apparently even the Hollywood elite love Barb from Stranger Things, because she got a huge round of applause when she appeared in the La La Land-saluting opening musical number to the show.

Where is Shannon Purser's sitcom since we all love Barb so much?
4.

Milo Ventimiglia and Justin Hartley were rarely out of each other's sight.

Valerie Macon / AFP / Getty Images

The This Is Us co-stars seemed to be joined at the hip for much of the evening!
5.

This is a bathroom selfie.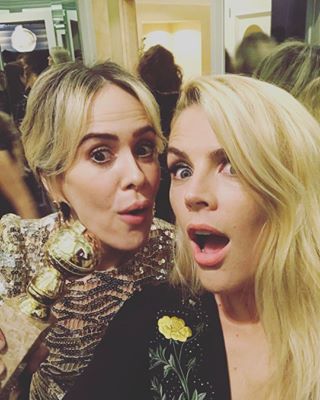 At around 6:30 p.m., I entered the ladies' restroom and saw Sarah Paulson and Busy Philipps taking a bathroom selfie together. A real "stars, they're just like us, but with more Instagram followers and better props" moment.
6.

When Matt Damon said "hello to everyone back at the bar," it was because no one was sitting down and everyone was yelling.

Handout / Getty Images

It is a very loud room!
7.

Meryl Streep is the only person Hollywood respects.

Paul Drinkwater / NBCUniversal via Getty Images

When Streep took to the stage at the Beverly Hilton Hotel to accept the Cecil B. DeMille Award and sharply criticize president-elect Donald Trump, the room went quiet, because apparently by that point in the night she was the only person important enough to listen to. Meryl Streep: killing it at everything including commanding a room full of drunk people.
Check out more articles on BuzzFeed.com!