1.

Patrick Warburton, who plays the titular character, Lemony Snicket, didn't audition for the role.

Warburton received a text from executive producer, Barry Sonnenfeld, asking him to come up to Vancouver for five months to shoot the show, and he accepted. "If I had auditioned, I would not have gotten the job," Warburton joked to BuzzFeed News in a phone interview.
2.

Warburton was on board because of his past relationship with Sonnenfeld.

Angela Weiss / AFP / Getty Images

The two had previously worked together on projects like The Tick, Men in Black II, and Big Trouble. "He raises the bar on almost everything he does through his vision, through his lens, through the people he works with, through his imagination," Warburton said of Sonnenfeld.
3.

Way before he was cast, Warburton had crossed paths with Daniel Handler, the author of Lemony Snicket's A Series of Unfortunate Events.

Angela Weiss / AFP / Getty Images

In 1999, Warburton starred in a film called The Woman Chaser. Handler and his wife, Lisa Brown, attended a screening and a Q&A for the feature in San Francisco, which Warburton was a part of. Though it was a small movie, years later, Handler had nothing but glowing things to say to Warburton about the little-known film.
4.

Warburton thinks of his portrayal of Snicket as having a Carl Sagan-in-Cosmos feel.

Warburton knew he'd be a prominent onscreen figure in the series. He's often in the same scenes as the Baudelaire children, but they don't interact, since he's a narrator. It's a different portrayal than Jude Law's Snicket in the 2006 film based on the book series — his character was barely seen.

"It is a different experience as an actor communicating with someone on the other side of the lens," Warburton said of speaking to the audience. "He has a personal connection to the people in the story, so he's not a detached narrator." The Snicket that he and Sonnenfeld have gone for in the Netflix series is much more integrated than, say, Rod Serling in The Twilight Zone.
5.

Snicket is a welcome departure for Warburton.

"I love the opportunity to do different things," he said. "So for me now, anything that's a departure is very appealing."
6.

And he did get to perform one stunt.

"I'm coming up on a lift out of the floor. You see it — it looks like I'm just walking under a carpet," he said. "I was on a lift underground to make it look very easy."
7.

There's very little from the books that didn't make it into the show.

The series is detailed and extremely faithful to the books. "I think this is the best, most comprehensive format to display these books," Warburton said. "So you're not missing a lot. I feel like it's probably the most thorough route to go."
8.

Both Malina Weissman and Louis Hynes, who play two of the leads in the show, had read the books and enjoyed them when they were younger.

Mike Coppola / Getty Images

They also told BuzzFeed News that they'd identified most with their respective characters while reading the novels, so it was a natural fit when they went out to audition for the Netflix series.
9.

The audition process was a long one for Weissman and Hynes.

Weissman said that she auditioned once for Sonnenfeld and there were a host of other auditions in Los Angeles before she was offered the role. Hynes auditioned in November of 2015 and didn't hear back for months, but during a car ride in Britain, he received a text asking him to come out to LA for another audition. After that, he secured the role. "It's the first big thing I've done, so I was excited," he said.
10.

Hynes used the books, not the movie, as his source material for Klaus.

Dimitrios Kambouris / Getty Images

Hynes had seen the 2006 film years ago, but he didn't watch it again to prep for the series. "I wanted to get my inspiration from the books and make this as organic as possible," he told BuzzFeed News.
11.

According to Weissman and Hynes, it was their onscreen baby sibling Sunny (Presley Smith) who broke character most.

"It was awesome," Weissman said of her experience with working with a baby on set — even when she would get a little cranky.
12.

Neil Patrick Harris, who plays the role of Count Olaf, gave the up-and-coming actors advice while on set.

"Always know what you want from a scene," Weissman said Harris told her. "Like, if you think of something, don't be afraid to say it." Hynes added that Harris was all about the actors experimenting and trying different things for their characters.
13.

And the young stars took in as much as they could from veteran actors Joan Cusack (Justice Strauss) and Alfre Woodard (Aunt Josephine).
"They're both amazing, they're so nice, they're amazing actresses," Weissman said. "Just hearing them discuss with Barry their motivations … You could learn so much from just watching them work," Hynes added.
14.

ASOUE's set designer is Bo Welch, who just so happens to be married to Catherine O'Hara, who plays Dr. Georgina Orwell on the series. And his attention to deal was impeccable, according to the child actors.

"From the smallest piece of dust to the biggest picture," the design of each set was intricate, said Weissman. Her favorite: "Count Olaf's house, because there was so much detail put into it. Or the Reptile Room." Hynes also praised the design of the Reptile Room, and gushed about the set for Lake Lachrymose. "They built essentially a small little harbor town, all the shops, it was huge," he said.
15.

Weissman and Hynes performed their own stunts on the series.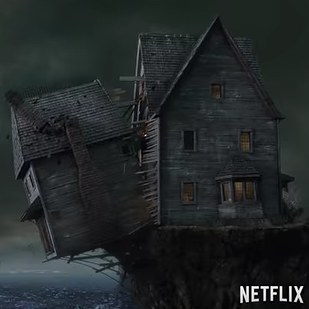 There was a custom set built for Aunt Josephine's home, which was supported on a gimbal, allowing the home to sway back and forth. Fans of the book will remember that Josephine's home sits dangerously high on a cliff overlooking Lake Lachrymose. "They built her entire library on it, put us on harnesses, and we had to pretend to fall and tumble," Weissman said.
16.

Hynes was the joker on set, pulling what he called "big, elaborate pranks" on his castmates.

Dimitrios Kambouris / Getty Images

According to Weissman, on the last day of filming, Hynes set off a fart bomb, which he'd conveniently hid under her desk. (They were going to school on set.) "It exploded in my hand. It smelled so bad," she said. Weissman returned the favor to Hynes by TP-ing his trailer.
All eight A Series of Unfortunate Events episodes debut Jan. 13 on Netflix.
Check out more articles on BuzzFeed.com!