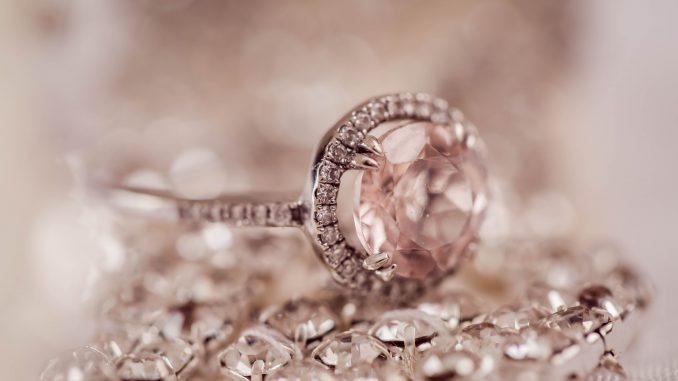 Celebrity Engagement Rings
When it comes to engagement rings, most everyone can agree that celebrities not only know how to make a statement, but they also know how to start a trend. As soon as a celebrity is seen with an engagement ring on their finger, suddenly everyone is jumping on the bandwagon in terms of style. When the time comes to choose this important piece of jewelry, many people have traditionally chosen to wear a white diamond. However, some of the most beautiful celebrity engagement rings are set with colorful stones that both unique and stunning in their own right. Let's take a look at some of the most famous non-traditional celebrity engagement rings.
Kate Middleton
Perhaps the most famous engagement ring in the world, the Duchess of Cambridge wears a 12-carat blue oval sapphire ring surrounded by 14 smaller round diamonds on a white gold band. The ring, which previously belonged to the late Princess Diana, sent the sale of sapphire engagement rings soaring when Kate began wearing it. Non-traditional and gorgeous, the ring radiates timeless beauty.
Jessica Simpson
When Jessica Simpson became engaged to Eric Johnson, she surprised her fans by choosing a ruby and diamond ring. The simple design features an exquisite 5-carat ruby with pear-shaped diamond side stones on a yellow-gold band. Not only is the ruby Jessica's birthstone, but the bold red shade represents the deep love and connection that her and her husband share.
Ashlee Simpson
Just like her older sister, Ashlee Simpson wears a ruby engagement ring that is as beautiful as it is unique. Her husband, Evan Ross, designed the piece alongside celebrity jeweler Neil Lane. The ring consists of a marquise-shaped diamond surrounded by rubies and is truly a one-of-a-kind piece of jewelry. It combines both vintage and modern styles for an engagement ring that really stands out.
Penelope Cruz
Halo rings are an extremely popular choice for brides to be, and Penelope Cruz put her own twist on this style with a sapphire ring set in a flower-shaped halo. The 3-carat sapphire is oval shaped and sits on a yellow-gold band.
Carrie Underwood
Known for her musical talent, Carrie Underwood also wears an engagement ring that can make anyone's jaw drop! The round-cut, yellow diamond is encircled by smaller round white diamonds and is set in a platinum band. The yellow diamond perfectly compliments the white diamond accents, creating a look that shines as brightly as the love between Carrie and her husband.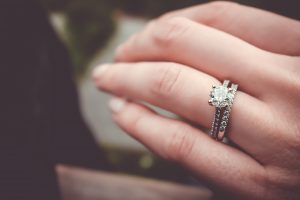 Princess Eugenie
The latest royal family member to become engaged, Princess Eugenie was given a ring that features a pink padparadscha sapphire with a white diamond halo. The center stone is a lovely orange-pink color, similar to the one that Eugenie's mother, Sarah Ferguson, was given many years ago by Prince Andrew. The rare stone is sourced from Sri Lanka and is a wonderful choice for an engagement ring as unique as the woman who wears it.
Halle Berry
The beautiful actress wears a 4-carat, square cut emerald engagement ring set in yellow gold and flanked with white diamond side stones. Crafted by hand, the ring is said to represent a love story. It truly stands out as a unique and precious engagement ring.
Victoria Beckham
Being the lucky owner of 14 engagement rings, it is no surprise that several of them feature a gemstone. Victoria is often seen wearing an oval-cut, pink champagne halo ring on her left hand. She also has a cushion-cut emerald ring set in a spiral design, as well as an oval-cut ruby ring in a platinum setting with white diamonds. Finally, her gemstone collection includes a large, oval-cut sapphire which sits on a diamond-encrusted band.
Olivia Wilde
Olivia put a personal touch on a widely-worn style with her diamond and emerald engagement ring. The round center diamond is surrounded with an emerald halo, which was chosen to match her eye color. The piece of jewelry is a one-of-a-kind ring with deep meaning and beauty.
Elizabeth Hurley
The ring given to Elizabeth Hurley upon her engagement is as unique as the woman who wears it. Simple and beautiful, the ring features a large, square-shaped blue sapphire with white trillion stones on either side.
Zoe Saldana
Zoe Saldana wears an engagement ring that has a large, pear-shaped emerald as its center stone. The emerald is complemented by white diamond side stones and a halo that makes it sparkle as brightly as possible.
Blake Lively
This beautiful actress wears an oval-shaped, pink diamond engagement ring given to her by husband Ryan Reynolds. The art-deco style ring is set in rose gold to complement the pink center stone and also features pave diamonds around the band. The ring is delicate and beautiful, with the pink shade adding to its feminine appeal.
Jackie Kennedy
Perhaps one of the most beautiful celebrity engagement rings belonged to Jackie Kennedy. It features a 2.84-carat emerald alongside a 2.88-carat diamond and baguette diamond accents. Although the ring was redesigned several times over the years, Jackie has since had it reset to the way it was originally designed.
Kelly Clarkson
With a distinctive voice and an even more distinctive style, it is only fitting that Kelly Clarkson wears an engagement ring to match her personality! The ring features a large, bright yellow square-shaped diamond with a French-set halo surrounding it. The bright, beautiful shade is just lovely for an engagement ring.
Eva Longoria
Choosing red to represent love, Eva Longoria wears one of the most eye-catching engagement rings in Hollywood! White diamonds surround the large, round-shaped ruby that sits on a platinum band. The ring is a sparkling, unique piece of jewelry that marks Eva's engagement with timeless and elegant beauty.
While white diamonds are still a popular choice for engagement rings, you can celebrate your love with a diamond or gemstone of any color! Let your ring reflect your own style and personality. To create your own beautiful ring with a stone in the color of your choice, visit James Allen for a wonderful selection.