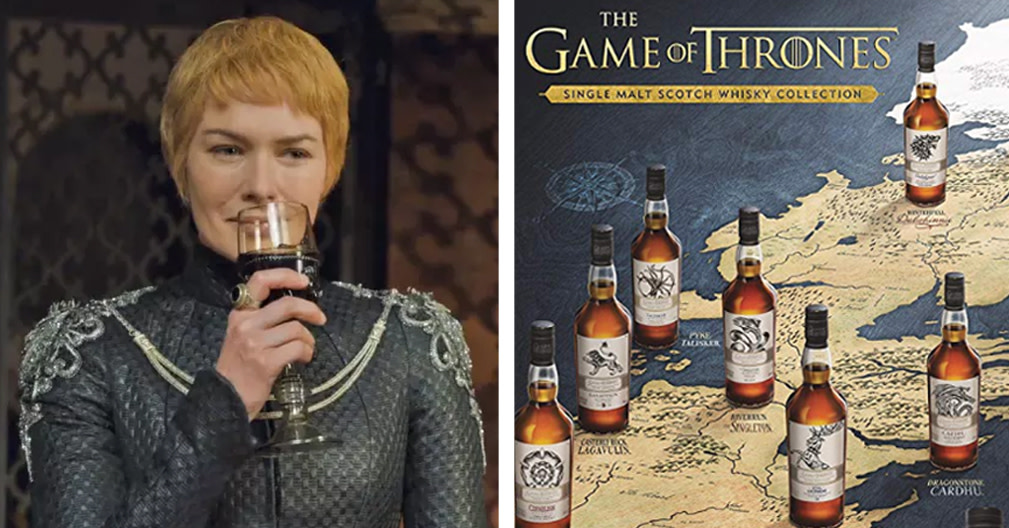 If you're anything like me, you're probably highly aware that the eighth and final season of Game of Thrones drops in LESS than two weeks.
To celebrate the series coming to a close, Diageo have collaborated with HBO to release a collection of limited edition whiskies that were inspired by the Houses of Westeros.
House Stark's resilience and strength has been paired with Dalwhinnie Winter's Frost, which is made in cold and remote conditions much like The North.
While House Lannister is represented by Lagavulin, a ~rich~ and ~renowned~ single malt whisky.
If you're team Targaryen, they've matched Dany's fierce and fiery spirit with Cardhu Gold Reserve, a distillery that was pioneered by a team of strong women in the 1800s.
And then there are the Tullys, the lords of the river lands, who have been matched with Singleton of Glendullan Select, which is produced on the banks of a river.
If House Tyrell is your pick, you'll be enjoying Clynelish Reserve. It tastes sweet and floral, like the Tyrells, but has an underlying ~complexity~ to it.
House Greyjoy has been paired with Talisker Select Reserve, a whisky that is distilled in one of the most remote and rugged areas of Scotland.
While the rich history of the Baratheons is represented by Royal Lochnagar, which was awarded a royal warrant in 1848 after Queen Victoria and Prince Albert visited the distillery.
Last but certainly not the least is the Night's Watch who have been paired with Oban Bay Reserve. Kinda like Castle Black, the Oban distillery sits beneath a steep cliff – but this one overlooks the bay between the west Highlands and the Islands of Scotland.
If you're keen to get your hands on these, they're available to purchase from liquor stores across Australia or on Amazon.
Honestly, I don't even like whisky but catch me drinking these while watching the final season anyway.