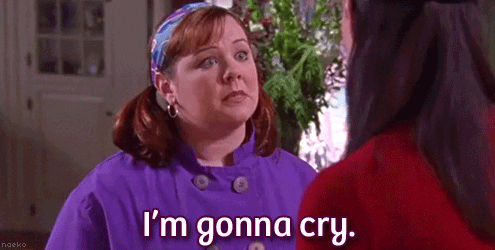 1.

Over the weekend, Netflix's chief content officer, Ted Sarandos, gave Gilmore Girls fans a little bit of hope about seeing new episodes of everyone's favorite fictional ladies from Connecticut.
2.

Sarandos told the UK's Press Association that Netflix is in "preliminary talks" with GG creator Amy Sherman-Palladino.

"We obviously loved the success of the show, fans loved how well it was done, it delivered what they hoped," he said.
3.

"The worst thing is to wait a couple of years for your favorite show to come back and for it to disappoint you," he continued. "But they sure delivered and people were really excited about more, and we have been talking to them about the possibility of that."
4.

When Netflix released four 90-minute episodes of Gilmore Girls: A Year in the Life in November, it was well-received by fans…

Alberto E. Rodriguez / Getty Images
5.

…but the "final four words" of the series — which Sherman-Palladino said were always intended to be the final four words — left people wondering if there would eventually be more episodes.
6.

And in response to the possibility of even MORE GG episodes, fans are freaking out just a little.
NEW GILMORE GIRLS!!!!!

— mia (@miajohnss)
Please say it's true!
#gilmoregirls https://t.co/CWeCDVx1DS

— Ka Riley (@dtpegasus)
I need an actual answer about more #GilmoreGirls because … https://t.co/ic3O21ball

— Samantha Highfill (@samhighfill)
9.

Some people are hesitant about another season of the revival…
I'm all for more Gilmore Girls if someone is around to temper Amy's worse impulses (that fucking musical) and if they give Lane a storyline.

— ❄️🍷 Andrew 🍷❄️ (@FH14)
I'm not sure I want a season 2 of the Gilmore Girls revival…

— Simple Man (@Altered_Bridge)
I only want another Gilmore girls revival if Rory ends up with Jess thnks

— katie ryan (@xkatieryan)
12.

…while others are hype AF.
My heart can't take these @GilmoreGirls rumors, you guys. Don't toy with me.

— Kady 💬 (@MrsKadyWhite)
Netflix has begun talks for a second 'Gilmore Girls' revival and I've begun praying as much as possible. 🙏

— Alex Goldschmidt (@alexandergold)
Where @thelaurengraham leads, I will follow. https://t.co/GnZiCkwZtJ

— Yogi Chelsea McQuaid (@chelseamcquaid)
BuzzFeed News has reached out to Netflix for further information.
Check out more articles on BuzzFeed.com!