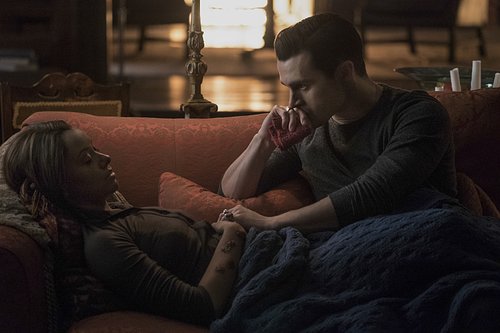 Damon and Enzo are not quite themselves on The CW's "The Vampire Diaries."
When the show returns on Friday night with the premiere of its eighth (and final season), the boys are leaving a bloody trail across the country — behavior sparked by something that happened to them inside The Armory at the end of Season 7.
But not everything is as it seems. Michael Malarkey's character, Enzo, may have a light hold on reality, as he fights for self control against the demonic creature making him do things.
With the show beginning it's final season, Access Hollywood turned to Michael for more insight into Enzo's fight, when we might see the vampire reunite with girlfriend Bonnie, and more.
AccessHollywood.com: What did Enzo and Damon get up to on their 'summer vacation' (that's what I'm going to call it)?
Michael Malarkey: Wasn't quite a Euro-trip. They've mostly been cavorting around different parts of America, I believe, and finding victims and butchering them in a warehouse is what we see teased in the teaser. And yeah, they've been working under this mysterious force of evil whose been encouraging them/forcing them to commit these murders for reasons which will be made clear in the first episode.
Access: A lot of us are curious — obviously with good reason — as to how your characters became the [murderous/possessed vampires] we saw at the end [of Season 7]. Will that be explored a little bit? Have you started to dig into that?
Michael: Well … we find out that they are basically having their minds controlled a little bit by this mysterious evil force and they don't really have a choice in the matter, and Enzo is a little bit more reluctant to being mind-controlled than Damon. He has a lot more of his guard up, he's undergone torture a lot, he doesn't like working for anybody else, as we've discerned from seasons prior, so that's a bit of a conflict there between the two of them. But yeah, basically they are having to do these things and commit these unspeakable things. Whether they enjoy it or not is up to their personality traits, I guess.
Access: [Does it feel] like playing two characters when your character is forced to do things? Is it kind of a different Enzo that we're going to see?
Michael: Yeah, in fact it's really been quite a joy as an actor to play that because he has to be quite guarded in certain respects. I mean, it's like being a double agent. He had a little bit of that last season with The Armory, and that was great to play because I just pretended I was James Bond, and now this one runs a little bit deeper. It's a lot more of a psychological double agent type thing, so it's pretty fascinating stuff what they concocted here, and God, I wish I could tease a bit more, but there's going to be so many more questions that open up once we see the first episode and a lot of questions answered as well.
Access: You mentioned James Bond. … [Are] you a huge James Bond?
Michael: James Bond and I go way back to the holiday I took in Turkey awhile back, where I was looking for something to read and I just grabbed this like Ian Fleming — the first three Bond books. They were in one edition and reading that on a beach, in Turkey, with a martini – it was pretty incredible. … It was the first time I'd really discovered how much of a badass Bond was. And in the books, his personality is a lot more that of Daniel Craig. He looks more like Sean Connery, I suppose, but the personality is definitely hard-nosed and [he's] got a hard edge to him and you would be, wouldn't you? But yeah, I'm a huge Bond fan. I've seen almost all the movies and I do particularly love Daniel Craig's interpretation.
Access: Awesome. Let me wrap this up by asking you how soon until we get a reunion between Enzo and Bonnie, as tough as it's going to be to watch considering what's going on for him?
Michael: Well, it's going to happen, for better or worse, at some point. I mean, we will see them together — I believe in a flashback form — in the first episode, so at least fans will appreciate getting a little bit more to the story. And, yeah, there's a lot of stuff we're doing currently, so you'll see under what pretense that falls further on down the line. But yeah, it's been really great. This season is a pretty rollicking ride and I'm having a lot of fun this season.
"The Vampire Diaries" Season 8 premieres Friday at 8/7c on The CW.