Yes, there are technically spoilers in the production.
Stop whatever trivial task you're forcing yourself to complete because James Corden made the cast of Thor: Ragnarok crash a live screening of the movie do a live performance of it, and it deserves to be seen.
In a scene straight out of my deepest fantasies, the movie's stars Chris Hemsworth, Tom Hiddleston, Cate Blanchett, Jeff Goldblum, Tessa Thompson, and Mark Ruffalo brought their ALL — including fake wigs — to the skit, and the audience obviously loved it.
CBS
LIKE, CAN YOU EVEN IMAGINE?????
CBS
The performance was as hilarious as it was awkward ,and honestly it looks only slightly better than my middle school production of Aladdin that featured a moving dolly as the flying carpet.
I mean, look at those costumes! Those props!
CBS
Without giving too much of the plot away, here are some of the best moments of the production. We have Tom Hiddleston, aka Loki, doing his impression of a Beyoncé hair flip and quickly losing his wig.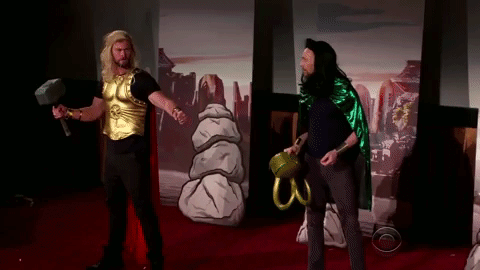 Framing this, BRB.
CBS
Then Jeff Goldblum, better known as The Grandmaster, made an appearance by rolling across the stage on a scooter.
CBS
Next, Mark Ruffalo aka Bruce Banner, aka The Incredible Hulk showed up just in time to fight Thor.
CBS
Oh and Tessa Thompson, our lady Valkyrie, came out and basically stabbed a pillow to death.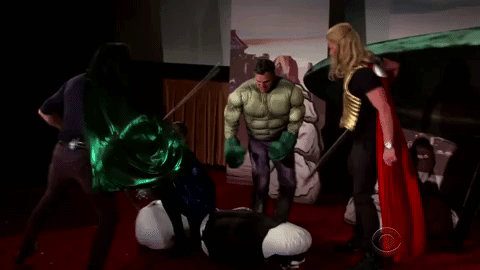 CBS
And like any good theater troupe, the full cast took a much deserved bow at the end of their performance.
CBS
While 4-D productions like this might not catch on anytime soon, I certainly would love to see another live film production. What do you say Corden? Maybe Avengers: Infinity War in 4-D?
Disney