1.

On Dec. 2, it was announced that Amazon cancelled Good Girls Revolt, their new series based on the real women who sued Newsweek magazine to become reporters over 45 years ago.
2.

The announcement came a little over a month after the show premiered on Oct. 28.
3.

Series creator Dana Calvo told BuzzFeed News's Kate Aurthur that she was "stunned" by Amazon's decision.
I just called @DanaSCalvo of #GoodGirlsRevolt, and she said this about its cancellation.

— Kate Aurthur (@KateAurthur)
Sony also confirmed that they'll be shopping the show to other outlets.
4.

In response to the news, members of the cast have been tweeting in support of Good Girls Revolt. Actor Genevieve Angelson said that she doesn't know "what to tell women, scared of their own president" about what the cancellation means.
8.

Actor Joy Bryant expressed her gratitude for the opportunity to play Eleanor Norton, who represented the real employees of Newsweek in 1970.
12.

Co-star Erin Darke said she hopes "this isn't the end" for Good Girls Revolt.
15.

Star Anna Camp tweeted that she doesn't have a "clue why Amazon would cancel [the] hit show."
17.

And actor Chris Diamantopoulos also shared a post on Instagram with the hashtag #SaveGoodGirlsRevolt.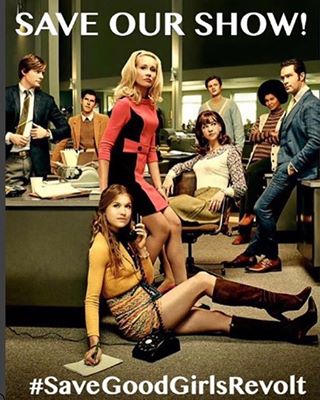 Check out more articles on BuzzFeed.com!