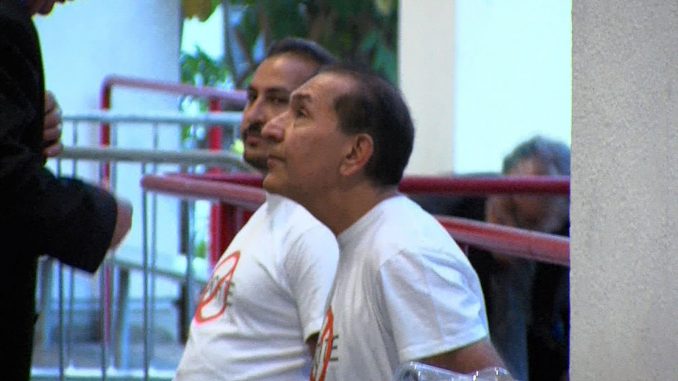 "Dancing with the Stars" returned on Monday night for its 23rd season, and with it, came some unexpected and unwelcome audience participation from anti-Lochte protesters.
According to the Los Angeles Police Department, two men, later identified as Los Angeles residents Sam Sododeh, 48, and Barzeen Soroudi, 40, were arrested after they unlawfully entered the ballroom stage to confront the 12-time Olympic medalist and "Dancing" contestant.
One of the protesters spoke to Access Hollywood shortly after the incident to explain the motive.
"Lochte is a liar," he told our cameras. "He hurt Americans in Brazil. Two of his own teammates were detained because he ran away and he lied … We want to publicize that this is a bad decision to have a liar be publicized as a star."
Backstage, Lochte, alongside pro dancer Cheryl Burke, told Access Hollywood's Liz Hernandez his reaction to the disruption.
Judge Carrie Ann Inaba, who was interrupted by the incident, took to her Instagram to comment on the night's events and share a photo of what may be a member of the "DWTS" security team.
"We had a bit of a scary moment during tonight's live taping of @dancingabc, but thanks to our security team and incredible staff at #DWTS, no one got hurt," she wrote. "Only positive energy here tonight and always. Thank you."
After the live show, dancing pro Derek Hough, who danced that same night, took to his Snapchat to share his thoughts on the night's unexpected events.
"That little incident that happened with Ryan — the people out there are cowards and absolutely foolish," he said. "Dancing is a positive place. It's a loving place. This is our home. You don't bring that into or home. It's just unacceptable … None of us are perfect. We all make mistakes. We need to forgive each other."
The LAPD also noted "no dancers or celebs were touched in the attempt to confront Mr. Lochte."
Ryan Lochte protesters arrested after entering 'DWTS' stage. (Access Hollywood)