Who doesn't love looking at the beautiful engagement rings of their favorite celebrities? There's just something almost addicting about seeing their gorgeous rings and imagining one of them on your own finger. What celebrities have the best engagement rings, though? Singers? Actresses? Models? What about athletes? On the surface, it might not seem that fierce female athletes, who are known for their competitive nature, would mix well with elaborate, elegant jewelry, but these nine female athletes' engagement rings show that you can be fierce and competitive while also showing off your elegant, beautiful side.
Misty May-Treanor
While she is now retired, for over a dozen years, Misty May-Treanor was half of the most famous beach volleyball duo in the world, a team that rarely lost even a set, let alone a match. For three consecutive Olympic games (2004, 2008, and 2012), Misty along with her teammate Kerri Walsh Jennings, won the gold medal. Supporting her behind the scenes through these victories and an assortment of other great victories, though, was Misty's husband, whom she married in November 2004 after dating for most of the year. Misty's ring, given to her by Matt Treanor, now a retired MLB player, includes a square-cut center diamond with two smaller diamonds beside it.
Carly Patterson
Carly Patterson got engaged to Mark Caldwell, a strategy consultant in January 2012, and the couple got married in November of that year. While Carly was a retired competitive gymnast by that point, she had already received some pretty impressive jewelry, having won the gold in the all-around women's competition in the 2004 Summer Olympics in Athens Greece and silver in both the team event and the balance beam at the same Olympics. Carly's engagement ring includes a round-cut center diamond in a halo setting. The band also has small diamonds along it. In October 2017, Carly and Mark added their first child, a boy named Graham, to their family. The couple is expecting their second child in early 2019.
Morgan Beck
Professional beach volleyball player Morgan Beck has been married to Olympic alpine star Bode Miller since October 2012, just a few months after the couple announced their engagement. Morgan's engagement ring includes a solitaire cushion-cut diamond with pave diamonds on the platinum band.
Paula Creamer
When professional golfer, Paula Creamer got engaged to her then-boyfriend, pilot Derek Heath, in 2013, with the engagement came a pretty impressive ring. The ring has a large round-cut center diamond in a halo setting. Paula's platinum band is also covered in diamonds. Paula and Derek got married in 2014. Even though Paula reported in March that she and Derek are no longer together, her ring is still something to admire.
Alex Morgan
When Alex Morgan got married to fellow professional soccer star, Servando Carrasco in late 2014, she was already among the most successful players, past or present, on the U.S. National Women's soccer team. The couple had known each other since their college years when they were both stars on the UC Berkeley soccer teams. Morgan's engagement ring, given to her when the couple got engaged in 2013, includes a square-cut solitaire diamond with diamonds along the platinum band.
Misty Copeland
Known as the first African American woman to be a principal dancer for the American Ballet Theatre, Misty Copeland is perhaps known for her elegance a bit more than the other women on this list. Misty and her now husband, Olu Evans, got engaged in 2015 and married the next year. Her engagement ring has a large cushion-cut center diamond surrounded by smaller diamonds. The ring also includes a diamond encrusted band.
Ronda Rousey
Mixed martial artist Ronda Rousey has an impressive engagement ring to go along with her impressive career in the ring. When Ronda got engaged to fellow mixed martial artist Travis Browne in April 2017 under a waterfall in New Zealand, she got a princess-cut diamond engagement ring with a thin pave diamond band. The couple got married in August 2017, just a few months after getting engaged. While Ronda is most commonly known for her UFC career, over the last few years, she has also made her way into the WWE ring, starting to demonstrate her talents there as well.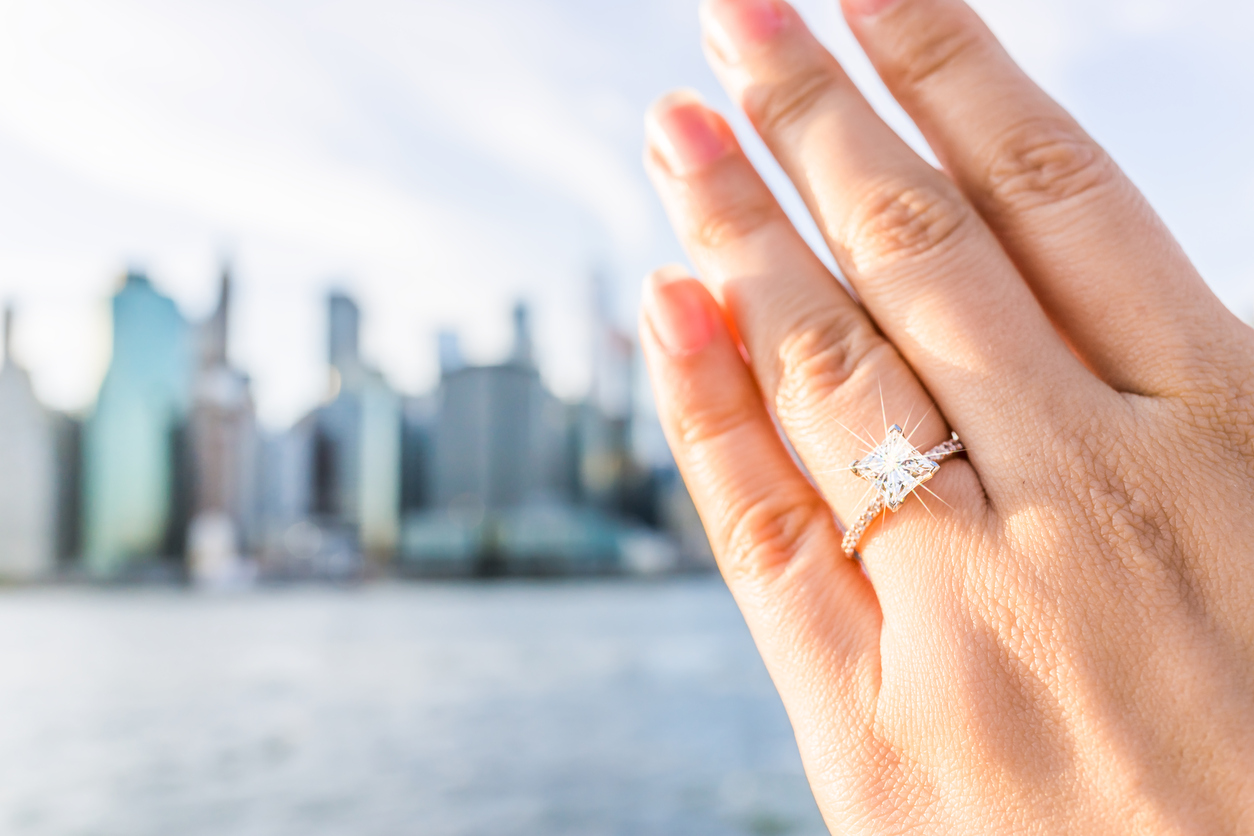 Caroline Wozniacki
As a Danish tennis star who has been ranked as high as No. 1 in the world, Caroline Wozniacki understands what it means to stand out from the crowd. Caroline's engagement ring, given to her in late 2017 by her now fiancé, retired NBA player, David Lee, definitely allows her to continue to stand out from the crowd. The 8.88-carat ring, with an oval-cut center diamond on a pave diamond band has flawless, grade-D diamonds. The 8.88 number was not simply randomly picked. Eight is Caroline's favorite number, giving the number special meaning for the couple. This is Caroline's second 8+ carat engagement ring. While her 2014 engagement to golfer Rory McIlroy only lasted a few months, it also included a ring whose main diamond was inspired by Caroline's favorite number.
Nikki Bella (AKA Stephanie Nicole Garcia-Colace)
Even though the couple didn't end up following through with their wedding plans, Nikki Bella's engagement ring is worth mentioning. When she got engaged to fellow WWE star, John Cena in late 2017, with the engagement came an impressive ring, estimated to be valued at about $85,000. The ring contains a 4.5-carat round-cut center diamond. It has four smaller diamonds on each side of the larger diamond. Like Caroline Wozniacki's ring, the numbers involved with Nikki's ring also had special meaning for the couple. John chose a 4.5 carat stone because the couple had been dating for four and a half years when he proposed.
Picking out an engagement ring is such a fun and personal experience. As you can see from the variety of styles these athletes sport, there's no one perfect engagement ring for every woman, which is a wonderful thing. Who wants to be the same as everyone else anyway? While you might not be able to afford an engagement ring quite as elaborate as the ones these women wear, your perfect engagement ring is out there.