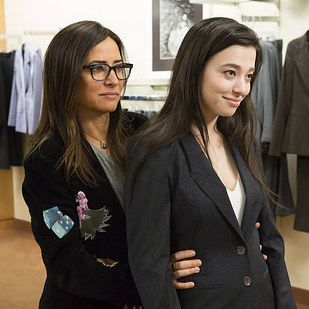 1.

1. Caleb McLaughlin, 2. Gaten Matarazzo, 3. Finn Wolfhard, 4. Millie Bobby Brown

No new show dominated the cultural zeitgeist in 2016 quite like Stranger Things. We analyzed the endless homages in Netflix's nostalgia-tinged drama, dressed as the characters for Halloween, and spent most of Christmas screaming "Will!!!!" at lights like we were Winona Ryder.

But the show's biggest gift was its core four: Caleb McLaughlin (Lucas), Gaten Matarazzo (Dustin), Finn Wolfhard (Mike), Millie Bobby Brown (Eleven). These young actors — ages 15, 14, 14, and 12 respectively — became the Goonies for a new generation in the process.

And if their onscreen contributions weren't enough, the accompanying press tour proved them to be quick-witted, endlessly charming, and even more talented than we'd suspected. We must protect them at all costs.
2.

5. Bella Ramsey

Given the endless collection of characters that populate HBO's Game of Thrones, it takes a lot to stand out as a supporting character — but for Bella Ramsey, who's just 12, it was like taking candy from a baby. While she only appeared in three episodes of Season 6 as Lyanna Mormont — a headstrong leader with an iron conviction — the actor blew through Westeros like a boss and the internet quickly fell at her feet.
3.

6. Auli'i Cravalho

Christopher Polk / Getty Images

Auli'i Cravalho is the voice behind Disney's sublime Moana, but — more importantly — the Hawaii native supplies the movie with a grounded confidence, a gorgeously zealous range, and the big, beating heart that fuels every turn of Moana's boat. And considering this is the 16-year-old's film debut, there's no telling how far she'll go in the years to come.
4.

7. Lonnie Chavis, 8. Mackenzie Hancsicsak, 9. Parker Bates

Nbc / Ron Batzdorff / NBC

No show has made our tear ducts flow in 2016 quite like NBC's breakout hit This Is Us. But one of the most unexpected sources of those feels has been the trio of actors who play the younger versions of the Pearson Big Three.

Lonnie Chavis (Randall), Mackenzie Hancsicsak (Kate), and Parker Bates (Kevin), all nine years old, have each done a dynamic job of laying the emotional groundwork that Sterling K. Brown (Randall), Chrissy Metz (Kate), and Justin Hartley (Kevin) beautifully mine week in and week out with their adult incarnations.
5.

10. Micah Fowler

Eric Mccandless / ABC

At the center of ABC's Speechless — one of the year's best new network comedies — is JJ DiMeo, a deeply sarcastic, endlessly inquisitive high school student with cerebral palsy. He is played with a ferocious wit and palpable enthusiasm by 18-year-old Micah Fowler, who also has cerebral palsy in real life.

It's blessedly clear that Speechless and Fowler are both only getting started.
6.

11. Julian Dennison

The Orchard

One of the year's most criminally overlooked movies also features one of the year's most winning performances. As Ricky in Hunt for the Wilderpeople, 14-year-old Julian Dennison displays a comic genius actors twice his age would envy. He also takes audiences on a powerful journey, and leaves them wanting so much more.
7.

12. Mikey Madison, 13. Hannah Alligood, 14. Olivia Edward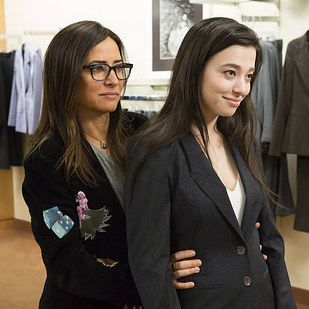 On FX's heartfelt Better Things, co-creator and star Pamela Adlon plays Sam Fox, a single mother working in Los Angeles and raising three children: Max (17-year-old Mikey Madison), Frankie (13-year-old Hannah Alligood), and Duke (9-year-old Olivia Edward). In writing the show, which is dedicated to her daughters, Adlon pulled from real life, so it's no surprise that Max, Frankie, and Duke are some of the year's most authentically written characters.
And all three actors possess the depth of skill required to develop rich layers for their creations. Madison elevates Max's teenage turmoil far beyond mere petulance, Alligood grounds Hannah's nonconformity in an undeniable truth, and Edward injects Duke with a shrewdness that could feel precocious in lesser hands.
With Adlon delivering career-best work, the four have created a profoundly lovable, refreshingly real family unit.
8.

15. Ashton Sanders

First, let it be known that every single actor in Moonlight is worthy of praise, from the adults (Janelle Monáe, Naomie Harris, Mahershala Ali, Trevante Rhodes, Andre Holland) to the kids (Alex Hibbert, Jharrel Jerome).

But here, we're celebrating 19-year-old Ashton Sanders, who plays Chiron as a teen. He brought a tender ferocity to his performance, adding weight, urgency, and power to the middle section of the film. Oh, and lest you think acting is his only artistic talent, Sanders has been slaying red carpets in real life as well.
9.

16. Lewis MacDougall

Focus Features

A Monster Calls is an incredibly powerful, unique drama about the crippling power of anticipating grief. In the film, Conor (MacDougall) is confronting the harsh reality that his mother (Felicity Jones) might die and his guardian grandmother (Sigourney Weaver) might not like him very much. Conor's pain is interrupted by the arrival of a supernatural creature (voiced by Liam Neeson) who tells him a series of stories that culminate in an emotionally walloping scene.

It was also the moment when I began to seriously ugly-cry as 14-year-old MacDougall unleashed the full fury of his acting prowess and absolutely blew me away. Later I learned that MacDougall, like Conor (and like me), lost his mother at a young age, and his ability to tap into that personal pain for professional triumph left me absolutely floored.
10.

17. Madina Nalwanga

Walt Disney

Sixteen-year-old Madina Nalwanga made her resplendent debut performance in Disney's Queen of Katwe as real-life chess prodigy Phiona Mutesi. Nalwanga crafted an expertly nuanced journey of personal exploration and growth. The film's premiere was only the second time she had ever seen a movie inside a theater, so knowing that so much of her performance was based on instinct makes it even more awe-inspiring.
11.

18. Ferdia Walsh-Peelo

The Weinstein Company

The undeniably wonderful Sing Street boasts a handful of sensational younger actors (someone give Lucy Boynton a major studio movie ASAP, please). But the film's success rests squarely on the sometimes padded shoulders of Cosmo, played with coming-of-age perfection by 17-year-old Ferdia Walsh-Peelo.

In telling the story of one man's quest to form a band to win over a girl, Walsh-Peelo gamely sports the attire of every awkward teen in social transition before embracing the perfect amount of joie de vivre to indicate that this ugly duckling now feels like a swan.
12.

For more Best of 2016 content, click here!
Check out more articles on BuzzFeed.com!