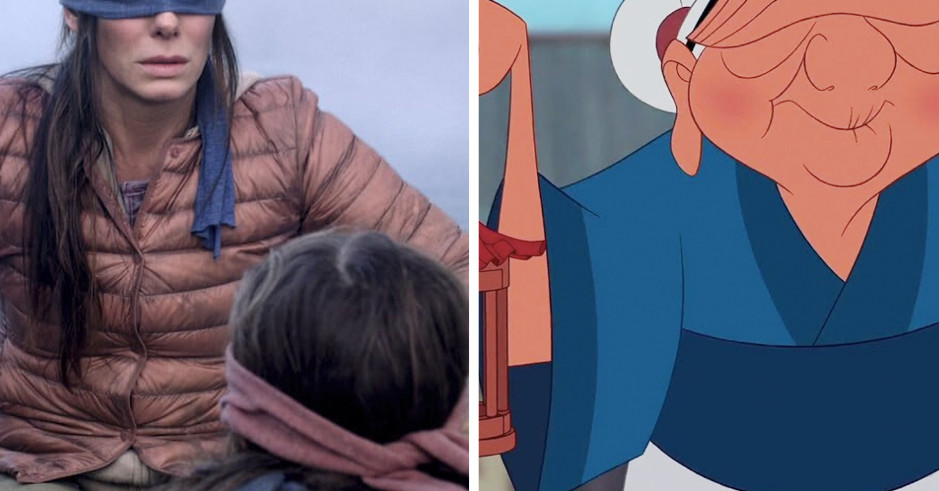 By now, you as a member of society have most likely seen the classic Disney animated film, Mulan.
And you've probably heard or seen something about Bird Box, the new Netflix thriller starring Sandra Bullock (warning: spoilers ahead!)
In Bird Box, Sandra Bullock plays a woman who has to fend for her family in an apocalyptic world — all while blindfolded.
And throughout movie, she keeps birds with her to help her stay safe.
So, we've got a blindfolded lady navigating a dangerous world, with the help of a specific type of animal in a little cage. Sound familiar??
OF COURSE IT DOES! BECAUSE THAT'S EXACTLY WHAT HAPPENS IN MULAN YOU GUYS!!!!
In one of the movie's earliest and best scenes, we watch Mulan's grandmother attempt to prove that Cri-Kee is indeed a "lucky cricket" by keeping him in a little cage, covering her eyes, and crossing a busy street.
Thanks to Cri-Kee's supernatural powers, chaos ensues — but Grandmother Fa emerges from the scene fully unharmed.
JUST AS SANDRA BULLOCK ESCAPES FROM THE CREATURES, ALSO UNSCATHED:
But hey, even this Disney account called out the parallels in both plotlines…
Also, ICYMI, there's another area of overlap between the Mulan and Bird Box universes: B.D. Wong!
If you happened to wonder why Greg's voice sounded so familiar, it's because Wong also did the voice for a certain captain Li Shang!
So there you have it: Bird Box and Mulan are basically a crossover event waiting to happen…
But in the meantime, let's give up for Grandmother Fa: family matriarch, keeper of lucky crickets, and original champion of the Bird Box Challenge…
And also for B.D. Wong for lending his talents to two extremely calm, cool, and collected characters!
This post was translated from Spanish.