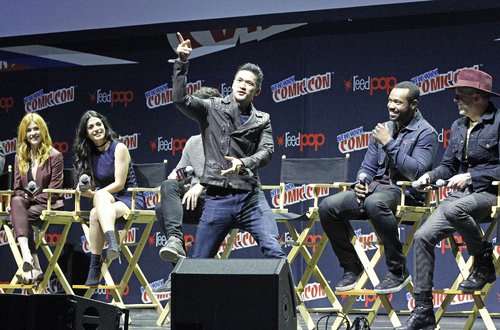 "Shadowhunters" Season 2 has a premiere date.
The Freeform drama will return for its second season on Monday, January 2 at 8 PM ET/PT on Freeform, it was announced at New York Comic Con on Saturday.
And more good news for fans of the drama – "The Vampire Diaries" star Paul Wesley is set to direct an upcoming episode.
Paul recorded a video about the news, which was played at NYCC, and posted online.
"Beyond excited," the "TVD" star said in the clip about his upcoming turn behind the camera. "I can't wait to work with the incredible cast.
"And most importantly, I can't wait to try something completely new, an entirely new genre that I really know nothing about. Exploring the world of vampires and warlocks and werewolves — I'm going to have to do some serious research, some really heaving lifting here. In fact, I better go get to that right now," he joked.
"Really looking forward to it. And to the cast, I can't wait to see you guys," Paul added.
The actor, who plays vampire Stefan Salvatore on The CW's "TVD," previously directed on his own show.
In "Shadowhunters" Season 2, "the Shadow World is in upheaval as Valentine and The Circle continue to grow stronger by the minute, while our Shadowhunter team quickly becomes disillusioned with The Clave and their reaction to the recent events," according to Freeform's premiere episode description. "Loyalties will be tested, unlikely bonds will be made and relationships will be pushed to the limit as the Shadowhunters and their Downworlder friends make their way in a new world."