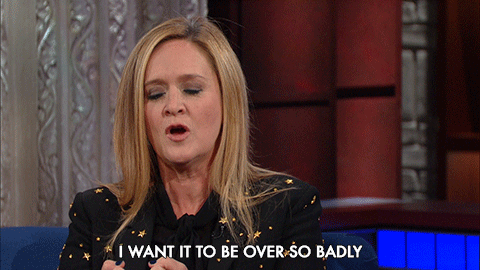 1.

On Friday, the Washington Post released a 2005 recording of Donald Trump commenting on how he treats women.

"I'm automatically attracted to beautiful, I just start kissing them. It's like a magnet," Trump was recorded telling Billy Bush, formerly of Access Hollywood, while the pair were on a bus wearing microphones. "Just kiss. I don't even wait. And when you're a star, they let you do it. You can do anything." He then added, "Grab them by the pussy. You can do anything."
2.

Well, as it turns out, Samantha Bee had something very similar happen to her recently!
3.

It seems that while on a bus, having a private conversation, she was recorded talking about men in a way that's, well, LEWD.
BREAKING: Samantha Bee recorded having extremely lewd conversation about men in 2016.

— Full Frontal (@FullFrontalSamB)
4.

"You know what looks a little bit luscious to me," Bee says, "BALLS."

Ugh.
5.

"Just like to reach up there and gram em," Bee goes on.

Unbelievable.
6.

As it turns out, her celebrity status gives her "access to men's balls."

WHAT.
7.

"Look at the nut sack on that guy," Bee says.

Typical woman, amirite?
8.

"I'm gonna make those things clap like a Newton's Cradle," she continues.
9.

Bee then gets off of the tour bus with a bit of a smug smile, clearly unaware that she was being recorded.
10.

Bee's camp has issued an apology, saying, "This was just classic girl talk," and "if you were offended, I will buy you an armoire or something."

The apology in full:

"To be clear, this was an off-the-record conversation. I have been the victim of a hack by the media that I hired to cover me.

This was just classic girl talk, a private conversation that took place on a heavily promoted special episode of my cable TV show. I'm sorry people felt the way that they felt, but you should hear the things Phyllis Schlafly used to say on the shuffleboard court. The mouth on that cunt!

Men should be flattered, but if you were offended I will buy you an armoire or something, IDK, men eat that shit up.

Obviously this does not disqualify me from being a highly successful winning late-night host. Lighten up and let's look to the future. OK thanks."
11.

Only time will tell if Bee's "apology" will be enough to appease her fans…
Check out more articles on BuzzFeed.com!