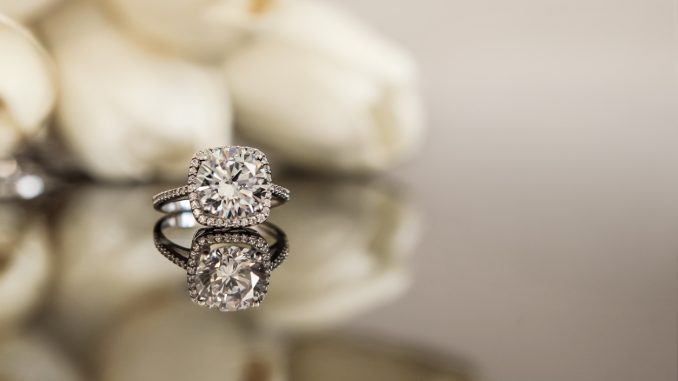 You rock out to their latest music. You know all about their lives, including when they got married, when their children were born, and when they are finally going on tour again. At times, you might even find yourself imitating your favorite female singer's style. There's nothing wrong with that. Many singers really have wonderful fashion sense, as evidenced by these eight great engagement rings worn by some of the most talented women in the music industry.
Trisha Yearwood
Trisha Yearwood has an impressive engagement ring to accompany her country music career. Her platinum engagement ring includes a large princess-cut center diamond with two smaller square-cut diamonds alongside the larger diamond.
While they have known each other and even been close friends since before they were country music stars, both Trisha and her now husband, Garth Brooks, married other people before they both ended up divorced in the early 2000s. In 2005, he proposed in front of 7,000 fans. Later that year, the couple got married in a private ceremony.
Jennifer Hudson
When it comes to large engagement rings, Jennifer Hudson's ring is also definitely somewhere near the top of the list. The 5-carat ring includes a large round-cut center diamond with a double-halo setting. The split shank band is also covered in diamonds.
Jennifer's then-boyfriend retired professional wrestler, David Daniel Otunga, Sr., proposed on September 12, 2008, the American Idol alumna's 27th birthday. While the couple was engaged for nine years, they broke-up in 2017 without ever tying the knot.
Cassadee Pope
In February 2017, Cassadee Pope, who won Season 3 of The Voice, got engaged to a fellow musician, Rian Dawson, the drummer for the band All Time Low. The couple had been dating for seven years prior to getting engaged. With the engagement came an impressive engagement ring, one that Cassadee admitted she was nervous to wear because of its large size. The ring has a big cushion-cut diamond in a halo setting. It has a split shank band with diamonds along both bands.
After the couple got engaged, they said that they were going to take things slowly, implying that it might be a while before they set a wedding date. Unfortunately, a wedding date was never announced. Despite the couple's long courtship, they broke up only a few months after getting engaged.
Mandy Moore
While much of her current time is spent on her acting career, singing was her original ticket into the business. Yet, Mandy continues to keep her connection to the music industry. In September 2017, she got engaged to Taylor Goldsmith, the frontman for Dawes. The couple's wedding date had not been publicly announced yet.
While we wait to find out when this couple plans to get married, let's take a look at Mandy's engagement ring. It contains a large round-cut diamond in a halo setting with tiny diamonds on the band. While the center diamond is large, Mandy's ring is quite a bit simpler and less showy than many other celebrity engagement rings.
Meghan Trainor
Over the last roughly four or five years, Meghan Trainor has made a pretty big name for herself in the music industry with hits such as "Lips Are Movin" and "All About the Bass." Yet, the name that really matters to this singer and songwriter is Daryl Sabana, her actor fiancé.
Meghan admits that she helped pick out her engagement ring because she wanted the ring to be perfect. The proposal on her 24th birthday, December 22, 2017, was a surprise, though. Meghan's cushion-cut diamond engagement ring includes a pave band. Meghan and Daryl have not yet publicly announced a wedding date.
Ellie Goulding
Earlier this year, British singer Ellie Goulding got engaged to her boyfriend of a year and a half, New York-based art dealer, Caspar Jopling. While Caspar does now live in the United States, like Ellie, his family is from England. The couple has been pretty private about their relationship, so they may keep their wedding date and location plans private as well.
Ellie's engagement ring includes a round-cut diamond. The ring includes a thin pave band. The band appears to be either platinum or white gold.
Gabi Dugal
Okay, maybe we cheated a little with this one since it's Gabi's husband, Scotty McCreery, who is the singer, but Gabi's ring is definitely worth including on this list. Her ring includes an oval-cut diamond on a gold pave band.
Gabi and Scotty's love story is just as special as the ring. They've known each other since kindergarten and were high school sweethearts. Even as Scotty won Season 10 of American Idol, they stayed together. He proposed in late 2017, and the couple was married in the summer of 2018.
Victoria Beckham
Her nickname is Posh Spice for a reason. Victoria Beckham (at the time Adams) got engaged to international soccer star David Beckham in 1998. The couple got married the next year, and they've stayed together since. This former Spice Girl, though, has not stuck with her original engagement ring. Altogether, Victoria has had 14 engagement rings. Yes, you read that right, 14. That means she's replacing her ring on average every year to year and a half.
Victoria's rings have come in a variety of styles. The one thing that all the rings have in common is that they are big and expensive. Her most recent engagement ring has a square-cut yellow diamond on a pave diamond band. She has a similar square-cut diamond ring on a pave band, but that diamond is not colored. Her largest and most expensive engagement ring has a 17-carat pear-shaped diamond. The most modest is her original engagement ring, which includes a marquise-cut diamond on a yellow-gold band. At three carats, it's still quite a bit larger than many engagement rings.
While most of us can only dream of owning a ring as elaborate and fancy as these great music industry stars (let alone the 14 rings Victoria Beckham as in her collection), there's no reason that you can't take a little inspiration from your favorite singer. To design your own music industry-inspired ring or to get an engagement ring that's unique to you, be sure to visit James Allen.