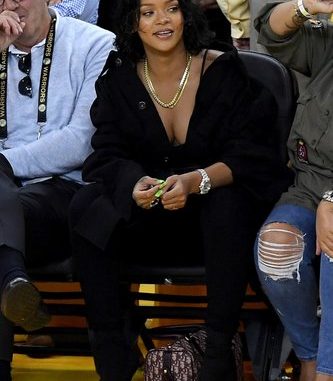 LeBron James and Kevin Durant may have been stars on the court for Game 1 of the NBA Finals, but Rihanna's the one who scored a social media slam dunk.
The music superstar and noted LeBron fan sat courtside for the inaugural showdown between the Cleveland Cavaliers and the Golden State Warriors in Oakland, Calif., Thursday night, and kick-started a viral sensation with her enthusiasm.
Twitter users caught commentator Jeff Van Gundy marveling over RiRi's presence, even after an impressive showcase from LeBron.
"I don't know about this, but Rihanna just walked in front of me. Are you kidding me?" he said with a laugh.
"LeBron makes a spectacular play like this and that's what you deal with?" his fellow announcer teased.
The songstress captured more attention after standing up and delivering a quick dab in the fourth quarter, but it was a rumored staredown from Durant that kept many fans' eyes off the ball.
Some viewers thought the Warriors forward gave RiRi a glare after she appeared to heckle him during a free throw shot, but the player dismissed the speculation when asked about it during a post-game press conference.
"I don't even remember that," he countered with a head shake, as Steph Curry jokingly warned his teammate not to "get in that trap."
"I'm cool," Durant added, when told that social media had ignited over the reported exchange. "Have fun with that."
Kevin Hart and Jay Z were also among the celebrities in attendance for the big game, and Rihanna was photographed greeting Jay at his seat.
Hart shared an Instagram photo of him, Jay and their buddies sharing a toast on a private jet while en route to Oakland.