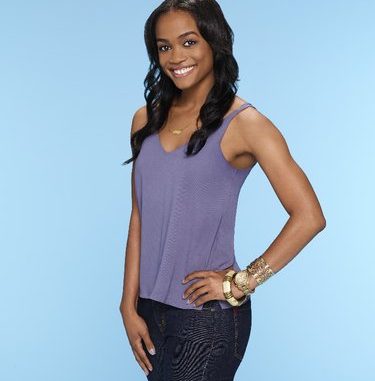 Rachel Lindsay has been named "The Bachelorette."
Jimmy Kimmel revealed the news, introducing Rachel as the new "Bachelorette" on Monday night's "Jimmy Kimmel Live!"
"This is a bit of a spoiler because you're still on the show," Jimmy said, referring to the current season of "The Bachelor."
"Yes it is but, you know, we're a couple of weeks out from filming. We're ready to get this started, find love, find a husband," she said. "So if you know anybody out there who needs to apply, sign up, go ahead and get started."
Rachel said is "excited" and "ready" to begin her search for love.
"I'm looking for someone who's ready for what I'm ready for," she told Jimmy. "At this point in my life – 31 – I'm ready to find a husband, someone who's ready to start a family."
"Bachelor" Nick Viall tweeted about the news on Monday night, sharing his happiness for Rachel.
"My heart is full of joy for you Rachel. Congrats!! You will be one hell of a Bachelorette!! Beauty & class.. you have it all!! TheBachelor," he tweeted.
Rachel is the first black "Bachelorette" in the franchise's history.
"No one better to show Bachelor Nation, & the world, the beauty of embracing diversity! So excited for you Rachel! #thebachelor #diversity," Nick also tweeted on Monday night.
The new season of "The Bachelorette" premieres on Monday, May 22 at 9 PM ET/PT on ABC.