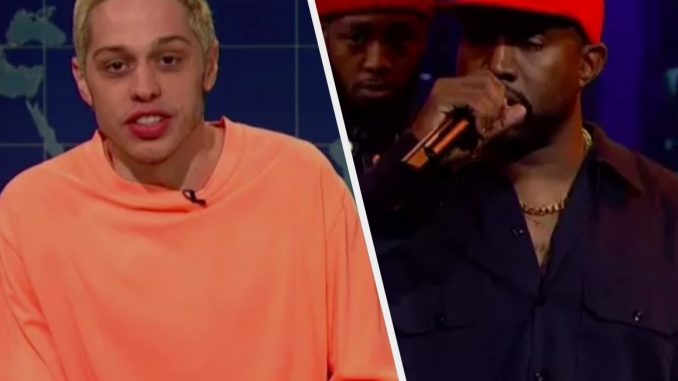 Pete Davidson is not happy with Kanye West.
Appearing as himself on Saturday Night Live's Weekend Update segment, the 24-year-old comedian said that West's unplanned monologue in support of Donald Trump at the end of last week's SNL episode was "one of the worst, like, most awkward things I've ever heard, and I've seen Chevy Chase speak to an intern."
West had asserted during his monologue that SNL cast members and crew had tried to convince him not to wear a "Make America Great Again" hat, a claim that Davidson denied Saturday: "He wore it all week, like, nobody told him not to wear it."
"I wish I bullied you," Davidson continued. "I wish I suggested that, you know, it might upset some people, like, your wife or every black person ever. You know?"
Davidson said it was a sad state of affairs for him to be scolding West about politics. "You know how wrong about politics you have to be for me to notice?"
"Kanye is a genius, but like a musical genius," Davidson added. "Like, Joey Chestnut is a hot dog–eating genius, but I don't want to hear his opinion about things that aren't hot dog–related."
Speaking about Kanye's "off the meds" comments, Davidson said, "Being mentally ill is not an excuse to act like a jackass, okay?"
He closed the segment by donning a version of a MAGA hat that read "Make Kanye 2006 Again."
Representatives for Davidson and West did not immediately respond to requests for comment Saturday night.