1.

Last night, Paramount Pictures quietly released the first teaser trailers for Ghost in the Shell, their upcoming adaptation of a popular Japanese franchise starring Scarlett Johansson.
3.

The first trailer features a masked woman, donning geisha neck make up, walking down an ominously lit corridor in a futuristic kimono.

Paramount Pictures
5.

The third features a close-up of The Major and a character played by model Adwoa Aboah.
6.

The fourth reveals a first look at Takeshi "Beat" Kitano as Lt. Col. Daisuke Aramaki.

Paramount Pictures
7.

The final teaser shows an armed Major moving in on a room of men.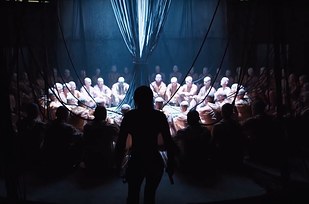 8.

The five teasers don't contain much action, but some people were impressed by what they saw.
┳┻|
┳┻|
┻┳|
┻┳|
┳┻|
┳┻|
┻┳|
┻┳|
┳┻|
┳┻|
┻┳|
┳┻|
┻┳|
┳┻| _
┻┳| •.•) Ghost in the Shell looks p good
┳┻|⊂ノ
┻┳|

— C.G. Runyon (@CGRunyon)
The Ghost in the Shell teasers look awfully good and I don't know what's real anymore.

— Paul Starr (@pts)
Live action Ghost in the Shell looking… decent 🤔 really hope ScarJo does a good job

— Chrollo Lucilfer (@MiloticSama)
12.

Some felt conflicted.
The teasers for the live action GITS don't look bad. Still not a fan of the Major's casting.

— Ya Boi @AWA 2016 (@BigDeadAlive)
I'm so sad because the cinematography in the ghost in the shell movie actually looks really impressive, and also I'm so gay for ScarJo… 😭

— Aryll (@aryllins)
it's a shame bc the ghost in the shell movie could of been really good if they got the right actress for it because it looks beautiful

— sammii🍰 (@sStrongstyle)
15.

But others were simply not here for it.
NOOOOOOOOOOOOOO. https://t.co/9UxG3ZC99t

— Angry Asian Man (@angryasianman)
Petition to start calling Scarlett Johansson's GITS character Not-oko

— Victoria McNally (@vqnerdballs)
everytime when they show something about Gits movie a part of me soul dies

— BrotherKolya (@ImperatorOfPuns)
Hoo boy these GITS teasers

— ✨clara mae✨ (@ubeempress)
they👏🏽want👏🏽our👏🏽aesthetics👏🏽but👏🏽not👏🏽us👏🏽

— ✨clara mae✨ (@ubeempress)
20.

Ghost in the Shell drops March 31, 2017. Watch the teasers below.
Check out more articles on BuzzFeed.com!