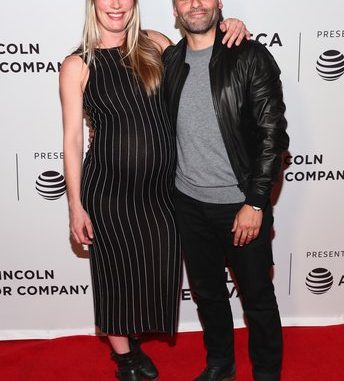 Oscar Isaac has just landed his most important role yet – fatherhood!
The "Star Wars" actor and his girlfriend, filmmaker Elvira Lind, have welcomed their first child. Elvira gave fans a peek at her and Oscar's bundle of joy via social media on Thursday while sharing excitement over the accolades for her documentary, "Bobbi Jene."
In a Twitter video, Elvira is seen cradling her and Oscar's little one as she comments on "Bobbi Jene" receiving multiple honors at the Tribeca Film Festival – including Best Documentary Feature.
"Wohoo – Three Awards for Bobbi Jene and greeting by Elvira Lind with newborn baby," the tweet read.
"I'm beyond words," Elvira laughed in the clip, thanking the festival jury before teasing that motherhood already has her hands full.
"It's amazing. If I could, I would be dancing, I'd be jumping up and down, probably all week long," she added.
The Danish director also appeared to acknowledge her recent milestones in a later tweet of her own.
"…what a week it has been. A little lost for words," she wrote on Friday.
While details including the baby's name and exact birth date have yet to be confirmed, it appears Oscar and Elvira's happy news is quite recent.
Just last week, the couple was photographed smiling together on the red carpet for the "Bobbi Jene" premiere in New York City. Elvira's bump was on display in a pin-striped dress, as she and the Golden Globe winner posed with their arms around each other.
Oscar revealed in an interview for "Sway in the Morning" earlier this month that he and Elvira were expecting a boy.