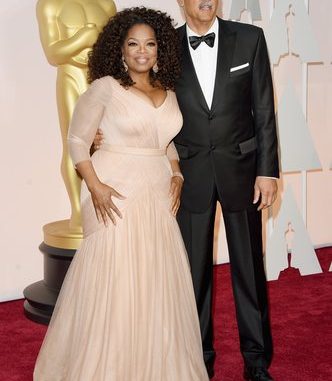 Oprah Winfrey is not walking down the aisle with longtime beau Stedman Graham.
The media mogul shut down rumors that she and Stedman are planning to tie the knot after 30 years together, revealing how the recent speculation had even some of her close friends fooled.
"6 people who know me well have called today congratulating me or surprised they weren't invited to my wedding," she tweeted on Monday. "IT's NOT TRUE!!"
The chatter ignited after a cover story in Star magazine claimed Oprah and Stedman were finally getting married. Apparently, Oprah hadn't gotten the memo.
"Ok.. I was like what's going on??" she tweeted, responding to an OWN Ambassador who gave her a heads up on the gossip.
It's not the first time Oprah's been candid about her and Stedman's marriage plans, or lack thereof.
During a 2015 episode of OWN's "SuperSoul Sunday," the TV titan shared that Stedman had proposed more than 20 years earlier – something she thought she wanted at the time.
However, Oprah explained that the idea of matrimony is what ultimately appealed to her, and not necessarily the reality.
"I don't know if I've ever said this publicly, but I really wanted to be wanted to be married to. I wanted Stedman to want to marry me," she said.
Adding, "The moment he asked me to marry him I was, like… 'Now I actually have to get married?'"
Oprah went on to discuss how she and Stedman postponed their wedding plans amid a timing conflict with the release of her then-upcoming book. It was then that she decided to keep the focus on her career.
"What I realized is, I don't want to be married," she admitted. "Because I could not have the life that I created for myself. … I knew that I couldn't do it."
According to Oprah, the topic has yet to come up since.
"We have never discussed it again," she said.
Now, Oprah's celebrating a different personal – and professional – milestone.
Showing off a slimmer figure at the recent premiere of her and Ava DuVernay's new OWN drama series "Sugar Queen," Oprah told Access Hollywood's Alex Hudgens why she's excited to be working with the "Selma" director. The pair is set to team up again on the film adaptation of "A Wrinkle in Time," which welcomes Ava as the first African-American woman to helm a movie with a $100 million budget.
"To do it with someone that you really want to support and see do well," Oprah said of her friend. "I'm going to have a good time!"
Oprah also seems to prioritize fun in her and Stedman's relationship, too.
"I've lost enough weight, he can pick me up and carry me to the pool," she joked to People last week of her recent body makeover. "I can straddle him without breaking his back."