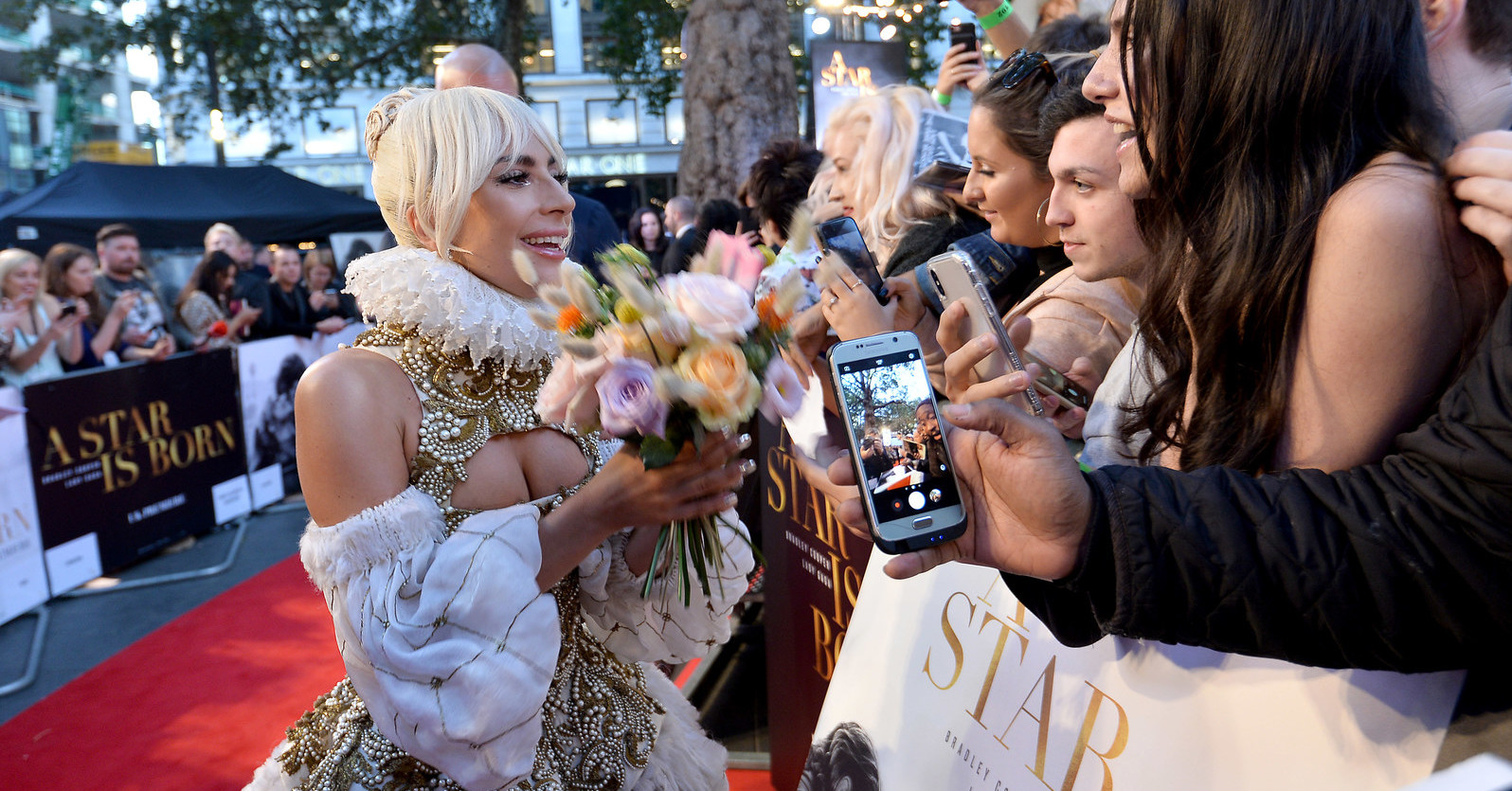 Besides being a romantic tearjerker, A Star Is Born is a tribute to the power of live music, and a cautionary tale for artists tempted to compromise their vision by chomping at the poison apple dangled by the star-making machine.
Rich is the irony for those who stick around to watch the closing credits to see "Executive Producer Michael Rapino" and "Live Nation Productions."
Don't recognize those names? Live Nation/Ticketmaster is the global conglomerate determined to monopolize the concert industry — a strategy of "crush, kill, destroy," as one internal email put it — by swallowing independent competitors and driving ticket prices ever higher.
Some of Live Nation's own employees call it the Death Star, and Rapino is its CEO, president, and Darth Vader. Seeing these guys credited at the end of A Star Is Born is like finding out that The Handmaid's Tale was produced by Donald Trump and the angry old white men of the Senate Judiciary Committee.
Much has been made of Bradley Cooper's performance as the grizzled, alcoholic country-rocker Jackson Maine, which he pulled off while directing the film and practicing his singing and guitar-playing. But the movie belongs to Lady Gaga. As Ally, it's no surprise she shines in her musical turns, from channeling Édith Piaf to joining Cooper for an alt-country duet on "Shallow." Finally, she allows herself to be remade as a dance-pop diva by a slimeball from Interscope Records. (Irony-oblivious product placement: Interscope is releasing the soundtrack on Friday.) Gaga is a magnetic actress — a movie star is born, indeed.
The "you had me at hello" moment comes when a smitten Maine asks Ally to linger for a second after their first meeting. "I just wanted to take another look at you," he says.
While the Live Nation/Ticketmaster story has been told before, it's not well-known to music lovers who don't read the business press. So let's take another look at that.
The story starts in the late '90s with entrepreneur Robert F.X. Sillerman. Flush with $2 billion in cash from selling the chain of bland corporate radio stations he'd built, he began gobbling up regional concert promoters with a similar Pac-Man-like strategy of corporate consolidation — the nice way of saying monopolizing the industry.
By 2000, SFX Entertainment was the world's largest concert promoter. Then he sold that company, too, netting $4.5 billion from Clear Channel, the third largest radio chain in the US, and a big player in outdoor advertising.
The corporate vision was one of marketing synergies, or what normal people would describe as an Orwellian nightmare. We get in our cars and listen to one of the company's radio stations playing the company's advertising. Between all the ads, the stations play music by artists the company has anointed as its stars, and we nod our heads to them while driving past the company's billboards before eventually arriving at one of the company's concert venues. There we see more company advertising, in between performances by the same stars whose music the company has blanketed over the airwaves.
Along with impossibly dull commercial radio stations, ever-rising ticket prices, and minimal concern for the quality of the concert experience, this leads to some pretty chilling scenarios. In the wake of 9/11, an insider leaked a list of songs the company had "suggested" its 1,200 radio stations remove from the air, including John Lennon's "Imagine," "Rescue Me" by Fontella Bass, and everything by Rage Against the Machine.
By 2005, the beast had grown too big too fast, so it split into three separate mega-companies. Clear Channel Outdoor does billboards; iHeartMedia (formerly Clear Channel Communications) controls much of American radio, and Live Nation is determined to own the concert market.
Things got even worse in 2009 when Live Nation announced plans to merge with the second most-reviled entity in the concert business: Ticketmaster.
Founded in 1976 by two Arizona college students, Ticketmaster secured market dominance in the early '90s by buying all its rivals. It locked up venues from the enormodomes down to small clubs like the one where Maine meets Ally, introducing mafia-like requirements that venues can only sell tickets through its system, regardless of what the artist wants.
The service and "convenience" fees levied by Ticketmaster add as much as 50% to the cost of a ticket, according to industry studies — and that's for a basic, mostly online transaction that generally takes less than a minute. Ticketmaster kicks back a portion of those fees to the promoter, the venue, and sometimes the artists — if the artists have enough clout, don't mind milking fans, and are hip to the scam. That list includes even superstar do-gooders like U2.
These practices prompted an investigation by the Clinton Justice Department in 1994. When Ticketmaster added a $3.50 service fee to $18 tickets for two Pearl Jam shows in Chicago, the band balked and announced it would boycott venues controlled by the company. The feds approached the group to testify about the evils of Ticketmaster — Pearl Jam didn't go the Justice Department, as is often misreported — and band members soon found themselves at televised hearings on Capitol Hill.
The Clinton administration ultimately decided Ticketmaster wasn't a monopoly, and it kept doing business as usual. For two years at the height of the band's career, Pearl Jam couldn't perform almost anywhere in the US. Eventually, Eddie Vedder and the boys caved and got in bed with Ticketmaster too.
Live Nation's coupling with Ticketmaster prompted another round of hearings on Capitol Hill during the Obama administration. "The merger would create the most powerful and influential entity the music business has ever known," warned Billboard. "As manager, ticketer, venue operator, merchandiser, and more, this giant would tap into revenues, if not outright control them, from virtually every source in the chain: live performance, merchandising, ticketing, content, sponsorships, licensing, and digital."
The few remaining indie promoters protested loudly, as did artists like Bruce Springsteen. They got support from both sides of the political aisle, even making unlikely allies of Sens. Chuck Schumer and Orrin Hatch. (The latter recorded several albums of Mormon spirituals and considers himself an artist.) The deal was approved regardless.
Worth noting: Obama's Harvard classmate and friend Julius Genachowski sat on the board of directors of Ticketmaster before being tapped by the president to chair the Federal Communications Commission in 2009. Ari Emanuel, the brother of Obama's first chief of staff, Rahm Emanuel, sat on the board of directors of Live Nation.
By the time of the merger, ticket prices for the top 100 concert tours had risen 142% over the last decade. In the years since, ticket costs have kept skyrocketing, thanks in part to scams such as "dynamic pricing" (fans bidding against each other for seats instead of buying them at a fixed cost) and set-asides for the "secondary market" (that is, scalpers). These shady dealings endure — witness this recent exposé by CBC — and Live Nation/Ticketmaster is now so big that in many cities, artists either work with the Death Star, or they have nowhere else to play.
A Star Is Born is a pleasant diversion at a time when we certainly need one. But if you care about live music, and resent corporations, like Walmart, Google, or Facebook, that are determined to eliminate choice and competition, it's tough to see the name of another ruthless monopolist attached to it.
Live Nation/Ticketmaster only recently entered the movie business, after testing the waters with a few documentaries, including Gaga: Five Foot Two in 2017. A Star Is Born is shaping up to be its first Hollywood blockbuster, complete with Oscar buzz. But it's impossible to imagine a company more at odds with the values of authenticity and independence championed in the film it bankrolled.
An uncompromising individualist like Maine couldn't find a stage to perform on in the Live Nation/Ticketmaster world, and though the movie ends with Ally reclaiming her soul after a Faustian bargain, that's hard to accept when you watch the closing credits. It's enough to bring a tear to your eyes.