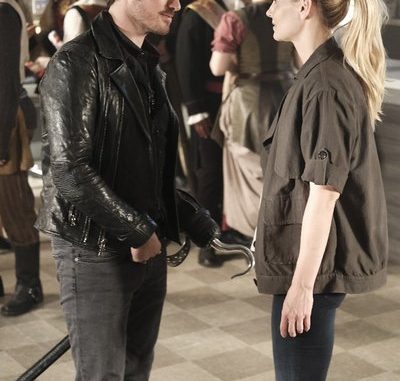 Belle needs help hiding from Mr. Gold in this Sunday's "Once Upon a Time," and stepping up to assist her is Hook.
"She asks for help and he says he'll help her. And there's nobody better that a pirate to sort of hide treasure," Colin O'Donoghue, who plays the reformed pirate, told Access Hollywood, previewing his character's arc in "A Bitter Draught."
Sunday's episode sounds jam-packed, with the introduction of another character from the Land of Untold Stories – the Count of Monte Cristo (Craig Horner) – and more from the Evil Queen.
Access Hollywood turned to Colin for more details on it all, and of course, for his thoughts on how Hook may feel when he finally finds out Emma Swan has been having visions of what could be her final fate (visions she's keeping from him).
But first, we had to ask about the news that Colin's friend Sean Maguire, who played Robin Hood, is set to return to the show. (Entertainment Weekly reported Sean is back for "multiple episodes.")
AccessHollywood.com: The news is out that Sean, your buddy, is coming back. Have you guys talked about his return to the show?
Colin O'Donoghue: We have actually talked. Yeah, I'm very excited to have Sean back up with us. … It'll be fun. … I literally don't know anything about what's happening, but I'm very excited that he'll be here.
Access: Do you guys have any things that you do when you are together on set? I know he sings as well. I was just curious if there are any routines you have when you two get together on the 'Once Upon a Time' set?
Colin: (laughs) Like standup routines? Sean is just a bundle of energy so he has us all rolling around the place laughing on set, so it'll be nice to have him back on set.
Access: The Count of Monte Cristo arrives this episode. [Did they have any] special sandwiches that day at craft services? I'm curious if they made Monte Cristos, because that would be a fun thing to do to welcome Craig [Horner] to the show.
Colin: It would be fun. … I think that they were in such a rush to shoot the episode that they forgot to the sandwiches, which is a shame.
Access: Does Hook get a chance to interact with him this episode, or is that something that might come later?
Colin: Not so much this episode. Hook was sort of on his own on his own kind of journey during this episode, which sort of kept him away from The Count. But again, with the idea of the Land of the Untold Stories and stuff like that, it's been fantastic that all these characters are able to sort of come into the show now and it's kind of opened up a whole new world for us, which is great.
Access: This week, you get to stick with one of your core characters, Belle. Obviously she needs your character's help hiding. I'm [wondering] how far Hook is willing to go to help her hide. Gold is so dangerous … [and is] always getting the upper hand, but no one has a bigger chip on his shoulder against Gold than your character, fair to say.
Colin: Yeah, in this context, Hook is helping Belle because he feels like that is the right thing to do. It's not for any other reason than the fact that he's trying to do the right thing and kind of make amends for – I mean, Hook's been a bit of a jerk to Belle in the past, so I think he's trying to make amends by helping her. However, it doesn't hurt that he is sort of getting one up on Gold at the same time.
Access: When you read Episode 1, and you found out that Emma was lying to Hook, what did you think of that from your character's perspective? I imagine that's how you look at the scripts – how would Hook feel about this if he knew, right?
Colin: Yeah. … For Hook, I think he would be disappointed that sort of maybe she doesn't trust him enough to sort of deal with these problems together, but they have a very, very deep connection and he knows obviously something is off with her and he would want to help her in anyway that he could. So that's sort of where he is at at the minute and he just wants to try and do right by Emma and kind of be the best boyfriend, I guess, that he can be.
Access: Any chance we'll see you facing off with the Evil Queen any time soon? That's something I'm expecting at some point.
Colin: Yeah, you'll definitely see Hook and The Evil Queen go at each other. They obviously have a history and know each other well. The Evil Queen is sort of the big threat to Storybrooke this season, so everybody will have a relationship with her and Hook is no different.
"Once Upon a Time" airs Sunday at 8/7c on ABC.