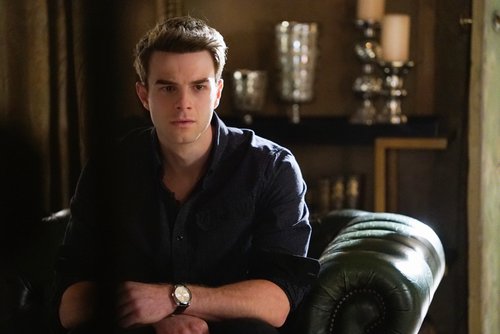 Kol Mikaelson is in a difficult situation on "The Originals."
His late girlfriend Davina is back from the dead thanks to this season's villain, The Hollow, but she's trapped in a spelled circle. And, The Hollow is promising to make her suffer if Kol doesn't do the magical force's bidding.
And just seeing Davina again is affecting Kol deeply, Nathaniel Buzolic told AccessHollywood.com.
"It's that classic situation where you can see the person you love, but you can't touch them," he said of his character's predicament. "It's a really great storyline in this episode. It definitely [creates] a lot of questions for Kol's character, like what is he willing to do to be able to help Davina, and at what cost is that going to be to everybody else. But obviously, it's the question of is it the family or is it love and where do you go from there. So it's a really great episode Friday night, which I'm looking forward to the audience seeing. I know a lot of people are happy that I'm back, so it's kind of nice to be back on the show and the fans are really excited, from what I've seen on my social media. So yeah, I'm looking forward to people seeing this week's episode."
With Kol and Davina reunited, they'll finally be able to reconnect and talk about missing each other and more.
"Yeah, totally. I think … from Kol's point of view, he just wants to like kiss her and that would be so frustrating [that he can't because she's in the circle], but there's definitely dialogue between them on that level. … But again, at the same time, living in New Orleans and being one of the Mikaelsons, there's so much stuff going on that it always feels like there's not enough time to solve all the problems."
And with Kol's heart still broken over losing Davina last season, The Hollow will attempt to use that as a weakness to turn him into one of her servants.
"Obviously, with The Hollow in town, she's going to use that against Kol, and I guess she's probably going to see how much she can push Kol in that situation," Nathaniel said. "There are a lot of other things going on in the episode … So, it's going to be interesting."
But, could there be a fight between Kol and one of his siblings in this episode?
"Maybe, possibly," Nathaniel teased. "I guess it just depends how high the tensions are in this episode."
"Kol is not always coming into situations with the political correctness that I think his family would like," he added.
Nathaniel revealed Friday's new episode will also feature some scenes where Kol interacts with his young niece – Klaus and Hayley's daughter Hope.
"I obviously love working with Summer Fontana and there's a great little scene between Kol and Hope," he said. "It was a fun little scene to shoot . … And it leads to something that I think the fans will enjoy."
"The Originals" airs Friday at 8/7c on The CW.