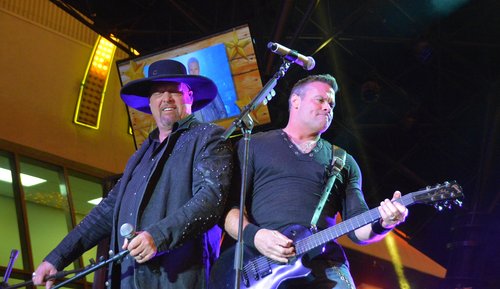 Montgomery Gentry singer Troy Gentry has died in a helicopter crash in Medford, New Jersey. He was 50 years old.
"It is with great sadness that we confirm that Troy Gentry, half of the popular country duo, Montgomery Gentry, was tragically killed in a helicopter crash which took place at approximately 1:00pm today in Medford, New Jersey. The duo was scheduled to perform tonight at the Flying W Airport & Resort in Medford. Troy Gentry was 50 years old," a statement read on the Montgomery Gentry website.
"Details of the crash are unknown. Troy Gentry's family wishes to acknowledge all of the kind thoughts and prayers, and asks for privacy at this time," the statement continued.
Gentry, who made up one half of the country duo alongside Eddie Montgomery, was known for hit songs like "My Town," "If You Ever Stop Loving Me" and "Something to Be Proud Of," which topped the Country Songs Charts in 2015.
Gentry is survived by his wife and two children.