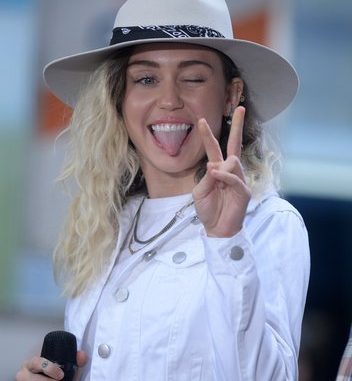 Miley Cyrus has left labels behind.
Speaking with Ross King on ITV's "Lorraine" this week, the "Malibu" singer explained why she believes she doesn't necessarily fit into any social, or even biological, category.
"I'm weird because of many reasons," she began, when asked what she feels sets her apart from others. "I feel very genderless, I feel ageless, I feel like I'm just a spirit soul, not even divided by human being. I treat the animals the same or hopefully treat the planet with as much respect as possible."
Miley went on to share further details about her philosophy, revealing that she tries to see everyone, herself included, as one entity.
"I feel very much like there's no 'us' and 'them,' there's no me and you," she continued. "I feel like I want to be everything and I also want to be kind of nothing. You know? I just want to be able to be myself."
The pop star expressed hope that her open-minded outlook will one day become "the new normal," and her fiancé Liam Hemsworth has been supportive along the way. After Miley was named one of Variety's Power of Women cover stars last year, the actor told Access Hollywood why he's "very proud" of who she is.
"She loves everyone," he said at the time. "I think her whole way of being is loving. … I think she's doing things for the right reason and trying to make the world a better place."
However, Miley may draw a line when it comes to one of her most cherished loved ones.
In her "Lorraine" sit-down, the 24-year-old admitted that she can't understand how anyone could have a negative opinion of her godmother, country legend Dolly Parton.
"I was saying last night that if you don't like Dolly you're weird. And if I'm telling you you're weird that's saying something because I'm the weirdest person I know," she laughed.