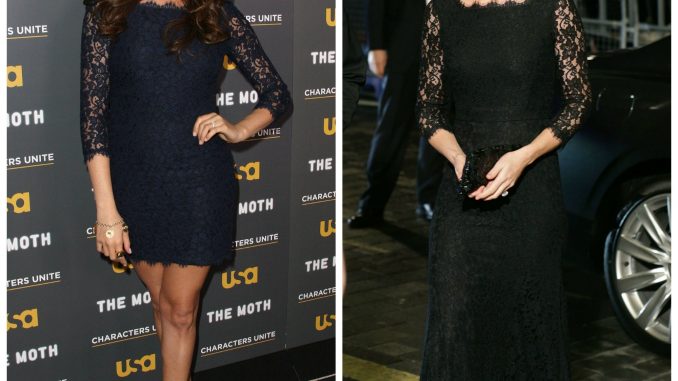 Turns out, Meghan Markle started showing off her royal fashion sense long before Prince Harry entered the picture.
Back in 2012, the "Suits" star was photographed at a USA Network event in the same Diane Von Furstenberg dress Kate Middleton wore to the Royal Variety Performance in London more than two years later.
Both women rocked the lace Zarita gown, although Kate's black, floor-length version was a bit more formal than Meghan's mid-thigh, navy option, which she paired with nude platform pumps.
(Getty Images)
Rumors of Meghan and Prince Harry's love connection first made headlines in late October. On Tuesday, the royal confirmed their relationship in a public letter slamming what he referred to as he referred to as racist and sexist media coverage of his new girlfriend.
People's Royals senior editor Michelle Tauber told Access Hollywood that the statement was an unprecedented move for the normally private 32-year-old.
"We have never seen Harry speak out in such a blunt, direct way about anything to do with his personal life, and it really signaled how very seriously he's taking his relationship with Meghan," Michelle said.
Meghan, 35, also appears to be taking extra precaution amid the increased attention. Last week, the actress was spotted with a security guard at her side in Toronto, where "Suits" is filmed.