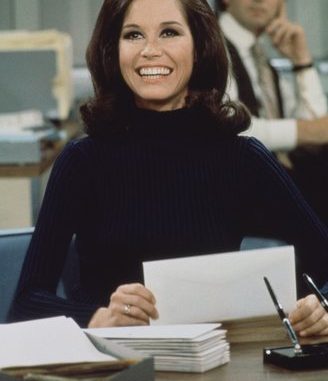 Hollywood is paying tribute to the woman who could turn the world on with her smile.
Following the passing of TV icon Mary Tyler Moore on Wednesday, the actress' colleagues and admirers shared their condolences while also honoring her contribution to the entertainment industry.
Carol Burnett released a statement to Access Hollywood shortly after the sad news, recalling her fellow legend as "a pioneer on television and also one of the sweetest, nicest people I ever knew."
Many stars chimed in across social media, including those who hailed Moore for paving the way for women in show business.
"I could not do what I do without her," Rachel Bloom wrote on Twitter, while Ellen DeGeneres tweeted that the late star "changed the world for all women."
Oscar nominee Viola Davis also took to Twitter to thank Moore for "changing the face of TV" and providing "the first real image of a woman being independent, funny and vulnerable."
Britney Spears tweeted an image of the legend from her classic 1970s series "The Mary Tyler Moore Show," honoring her as "strong, courageous and so beautiful."
Hoda Kotb evoked the sitcom's memorable theme song in her remembrance, and her "Today" show colleague Savannah Guthrie followed suit with a reference to the iconic final shot in the opening credits.
"I throw my hat up in the air for you," Guthrie tweeted.
Moore's TV boss Ed Asner offered his sympathy to Moore's loved ones on Twitter, also addressing his former co-star in his post.
"My heart goes out to you and your family," he tweeted. "Know that I love you and believe in your strength."
Wilmer Valderrama honored Moore's guest stint on "That '70s Show" as a memory he "will carry forever," tweeting that it was "an honor" to have met the star.
Stephen Fry revealed on Twitter that he was rehearsing on the same stage where the "Mary Tyler Moore Show" taped when he learned of her death, and that the production observed a minute of silence to remember "one of the true greats of TV comedy."
Ashley Tisdale, Connie Britton, Andy Cohen, Kelly Ripa and others also posted their sadness over Moore's loss.
Moore shot to fame as Laura Petrie on "The Dick Van Dyke Show" in the 1960s, before cementing her icon status on "The Mary Tyler Moore Show" as news producer Mary Richards the following decade. The role and series is widely considered a watershed moment for TV's depiction of the working woman.
In addition to an Academy Award nomination for her work in 1980's "Ordinary People," Moore also garnered seven Emmys and three Golden Globes across her six-decade career.
She was 80 years old.