Because some fans are POSITIVE they've found Darth Vader hidden in it.
So unless you've been chilling on an isolated island with some porgs, you're aware that there's a new The Last Jedi trailer…and it's everything.
I will protect you at all costs, my precious porg.
Disney
There's a lot to unpack here, so let's take it from the top (literally). We have Luke in the coveted ~ominous presence~ spot, and as many fans on Twitter have pointed out…the choice of lighting is telling.
Half of his face is lit up by Rey's lightsaber, and the other half by Kylo's. FORESHADOWING OF A TORN MAN, PERHAPS?! OR A GRAY JEDI?!
Disney
Next up we have Rey (my sweet angel) and Kylo Ren (who, in case you missed the news, is officially cancelled until further notice and/or is proven to be otherwise).
I'm holding out hope for you, my sweet emo prince. Do not try me.
Disney
Rey, I love you. You're my whole world. I will not let the pretty boy hurt you.
Disney
Then we have Finn and Poe… one of whom IS NOT ON THE CORRECT SIDE OF THE POSTER, EXCUSE ME.

Disney
LIKE…POE JUST MOVE, PLEASE. YOU'RE CAUSING ME A LOT OF ANXIETY.
Please let this just be for aesthetic reasons.
Disney
And many have pointed out the distinct decision to put our Lord and Savior front and center where she DESERVES to be.
Disney
But what do YOU think about the poster? Let's hear all your thoughts, theories, angry-rants-about-me-enjoying-a-thing-and-talking-about-it-like-an-excited-child in the comments below!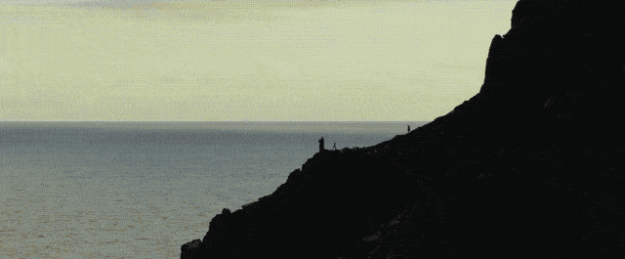 Disney