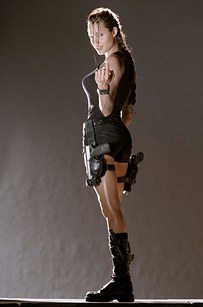 1.

All the way back in 2001, Angelina Jolie took on the iconic role of Lara Croft from the popular Tomb Raider video game and brought her to the big screen.

Warner Bros.

She starred in two Tomb Raider movies in 2001 and 2003, then hung up her dual pistols.
2.

And, like the video game character, she wore shorts a lot.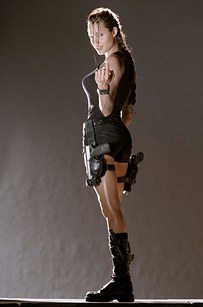 3.

Liiike, a lot.
4.

Not ALL the time, but in a vast majority of the movies, she was completing her acts of action heroism in tiny lil' shorts.

Warner Bros.
5.

Now, Alicia Vikander is starring as 21-year-old Lara Croft in the franchise's 2018 reboot, which focuses on the hero's origin story. And from these first images, it's clear Vikander's Croft is very different from Jolie's Croft because LOOK, SHE'S WEARING PANTS.

Graham Bartholomew

No braids and no guns — just a big ol' stick AND PANTS.
6.

And the pants are not a fluke, she is wearing PANTS
IN
EVERY
PICTURE. Look at Young Pants Croft!

Graham Bartholomew

Young Pants Croft works as a bike courier in East London and barely makes it to her college courses. Determined to forge her own path in life, she refuses to take over her father's global empire. She does, however, fully embrace pants.
7.

Here's one last pic of Lara and her pants.

Ilzek Kitshoff

In a final effort to find her father, she travels to the last place he visited before his disappearance: a mysterious island somewhere off the coast of Japan, the home of a mysterious tomb. She does so in pants.
8.

Overall, people seem pleased with the look.
one of the best things about lara croft is that her pants have real pockets

— fannypack spice (@traceyfanclub)
LARA CROFT DIDNT EVEN WEAR PANTS UNTIL THE REBOOT.

— Tiny Turtle Alicia (@EmisonLovely)
Alicia Vikander is the perfect Lara Croft we are blessed

— Ellie (@vikanderous)
11.

More Pants 2K17.
Are you shitting me with Karen Gillan's jungle outfit? Even the new Lara Croft thought to wear pants this time.… https://t.co/19gPzlUGdn

— Bethany Bryan (@BethvilleMayor)
Check out more articles on BuzzFeed.com!