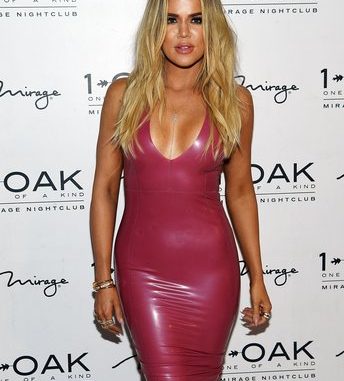 Khloé Kardashian is keeping her fitness inspiration in the family!
The reality star has undergone a dramatic makeover in the past year, and credits her sister Kim for being such an encouraging influence.
"My body motivation… Mrs. West," Khloe wrote on Thursday, captioning a sexy side-by-side Instagram snap of Kim showing off her tiny waist.
Khloé has been candid about her rigorous diet and exercise regime since starting her slimdown, but despite having already lost 40 pounds she's now hitting the gym twice as hard – literally!
On Friday, the 32-year-old took to her official website to share her two-a-day workout plan, which she says is one way to "shock and challenge" her body before a special event or vacation.
However, Khloé warned that the routine is only meant as a short-term solution.
"It's definitely NOT a lifestyle," Khloé wrote, explaining that even professional athletes only do two-a-days "for two to three weeks before they start their season."
While some may consider Khloé's system of "intense cardio" in the morning and weight training in the evening a demanding task in itself, she said the "downside" actually has nothing to do with physical exertion.
"You have to schedule out your showers and makeup," she wrote.
Kim's famous figure may be one of Khloé's major #bodygoals, but it sounds like the feeling is mutual!
The mom of two told People last month that she's lost nearly 70 pounds since giving birth to son Saint West in December 2015, and that Khloé's transformation has been astonishing to witness.
"I saw her naked two days ago changing," Kim said of Khloé at the time. "And I was, 'Oh, my God. You are my body icon.' She's never been more on fire."