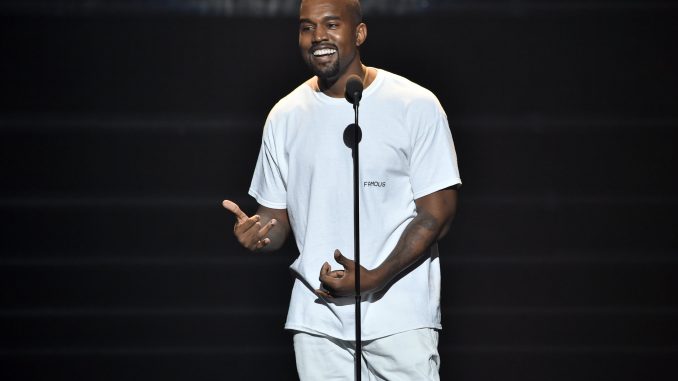 In typical and true Kanye West fashion, the rapper ranted at the MTV Video Music Awards, touching on subjects from music to his beef with Taylor Swift to violence in his hometown Chicago.
Before he debuted his music video for "Fade" on Sunday, West rambled onstage as the audience at Madison Square Garden in New York City cheered him on.
"Now later tonight 'Famous' might lose to Beyonce but I can't be mad, I'm always wishing for Beyonce to win," said West, who will compete with Beyonce for video of the year, and also referring to the 2009 VMAs when he jumped onstage, stole Swift's microphone and said Beyonce should have won over the then-country singer.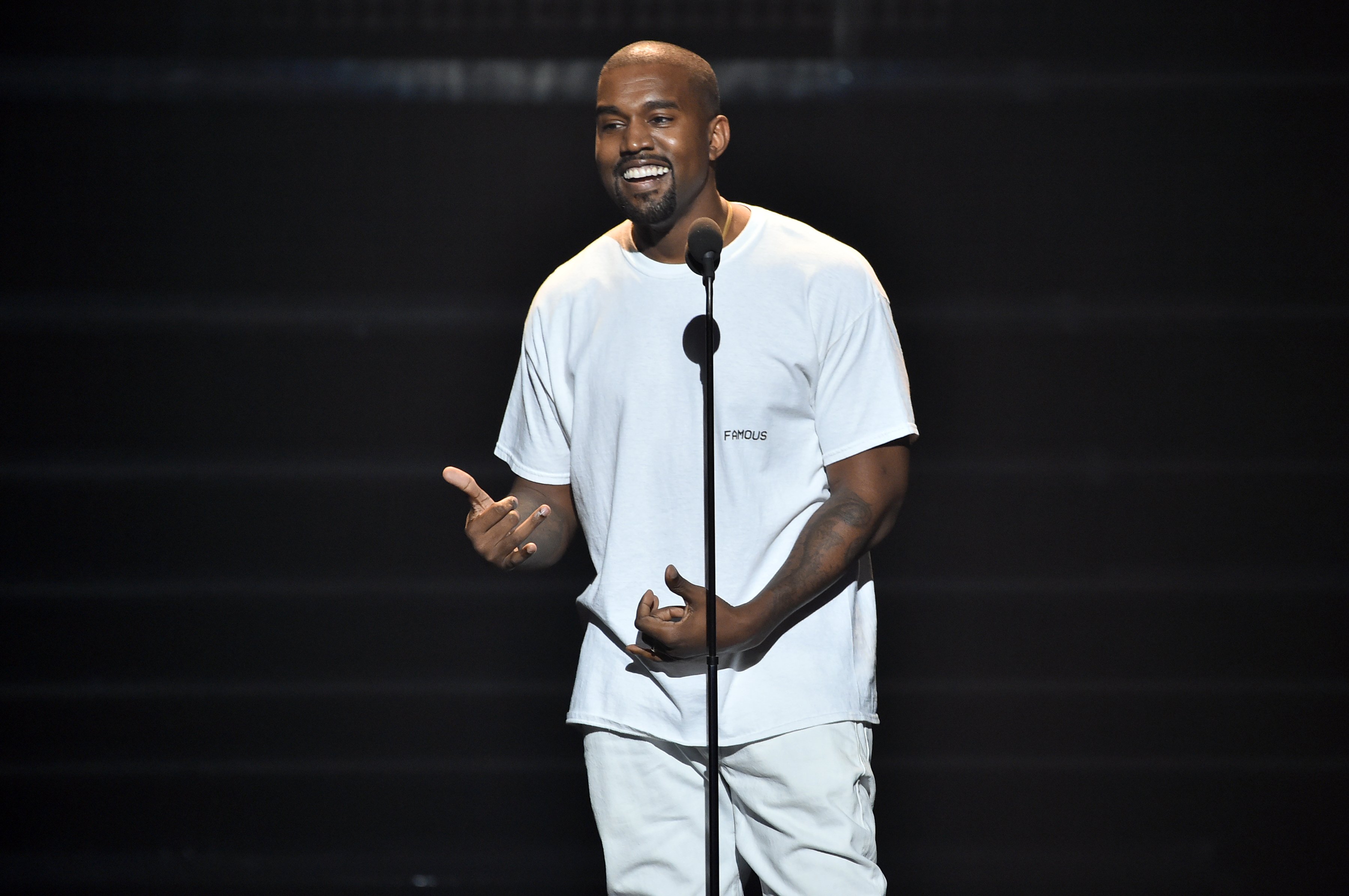 (Getty Images)
He talked about his "Famous" video, which features what appears to be naked images of West, Swift, Kim Kardashian, Donald Trump and more. He even pointed to former girlfriend Amber Rose, who was in the audience and is also in the video.
"It was an expression of our now, our fame right now, us on the inside of the TV, you know, the audacity to put Anna Wintour right next to Donald Trump," he said.
"I put Ray J in it bro," he said, referring to Kardashian's ex with whom she did a sex tape.
"But if you think about last week it was 22 people murdered in Chicago," he continued. "You know, people come up to me like, 'Man, that's right! Take, tell Taylor this. Bro, like I love all y'all."
"That's why I called her," he said with a laugh.
West could have another memorable moment Sunday if he wins video of the year later in the show. Aside from Beyonce's "Formation," his competition includes Justin Bieber's "Sorry," Drake's "Hotline Bling" and Adele's "Hello."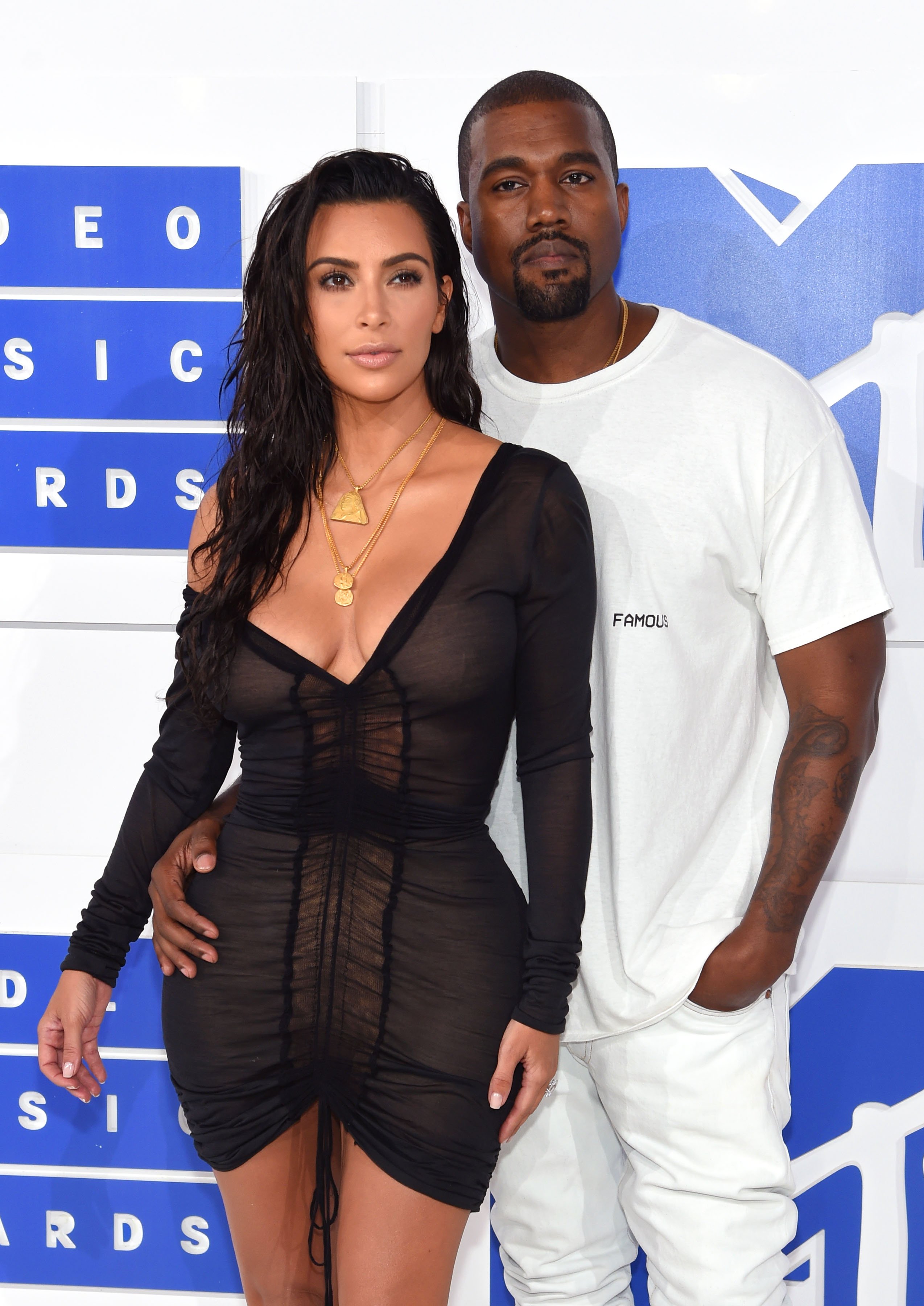 (Getty Images)
But Beyonce could own the night, too, when she performs. The top nominee with 11 was angel-winged and green-feathered with daughter Blue Ivy in tow, she arrived on the white carpet along with Sybrina Fulton, Lezley McSpadden and Gwen Carr, the mothers of Trayvon Martin, Michael Brown and Eric Garner, among others. They appeared in videos for Beyonce's "Lemonade" visual album and also make up the Mothers of the Movement, women of color who lost children to violence.
Rihanna kicked off the show, performing a medley of her hit songs in a bright pink ensemble that matched her background dancers and the stage. She sang songs like "We Found Love" and "Where Have You Been" — sometimes letting the backing track do most of the work. She sang "Work" and other songs during a second performance, and will receive the Michael Jackson Video Vanguard award.
Ariana Grande brought spin class to the VMA stage when she sang the reggae-tinged "Side to Side" with Nick Minaj. Grande cycled while singing and was backed by female dancers imitating her. Male dancers lifted dumbbells and did other exercises, and at the end of their performance, Grande and Minaj put their male dancers' faces in front their crotches.
Michael Phelps said he's been inspired by hip-hop music before introducing Future, who Phelps said he listened to before swimming. The rapper-singer-producer performed his hit "(Expletive) Up Some Commas."
Drake won the first award for the night — best hip hop video for "Hotline Bling." Puff Daddy, who presented the award, said Drake was stuck in traffic. Calvin Harris won best male video — beating West's "Famous" — for "This is What You Came For," which featured Rihanna and was co-written with former girlfriend Swift. Harris accepted the award in a video message.
Britney Spears, Nick Jonas and The Chainsmokers are set to perform. Nominees for best female video include Beyonce, Adele, Rihanna, Sia and Grande.
Coldplay, Desiigner, Fergie and Alessia Cara earned multiple nominations, while David Bowie — who died from cancer earlier this year — is nominated for best direction, cinematography, art direction and editing for "Lazarus." The music video, which shows him looking frail in bed with bandaged eyes, was released just days before the icon's Jan. 10 death.