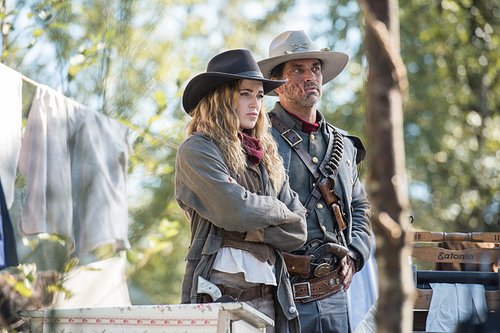 Jonah Hex is back. Thursday night's "DC's Legends of Tomorrow" will feature Johnathon Schaech back in the boots and wide-brimmed hat of Jonah, who bumps into the team just as his arch nemesis, Quentin Turnbill, is in town and up to no good.
Not long after Johnathon made his debut in "The Magnificent Eight" episode of the series last season, the idea was hatched to bring him back as Jonah.
"I think after we did the first one, Marc [Guggenheim, 'Legends' executive producer] said, 'I gotta bring you back. I just don't know how.' And so they were figuring it out," Johnathon told Access Hollywood. "And then, they held the dates and they sent me an episode called 'Outlaw Country,' which is really interesting because in the comic books, there was a – I can't remember which one it was, but they made him look like Waylon Jennings, who is a country artist, and it was a big deal. They were like, he looks too much like Waylon Jennings, because he was one of the Outlaw Country guys, so I got a kick out of that title."
In Thursday night's episode, Quentin Turnbill will attempt to take over the Wild West and make it lawless. Although Jonah will team up with the Legends, there's a missing piece of the team. Rip Hunter is still lost in history.
But, with their own lengthy history (something that was touched on in last season's episode) to inform his opinion, Jonah isn't concerned.
"He just kind of knows better than to be worried about Rip. He just knows he's someone [who is] going to be OK," Johnathon said. "He's just not there."
Thursday night's mission will showcase the first meeting of Jonah Hex and Nick Zano's character Nate, which should provide a humorous situation.
"When I first see Nick's character, I mean, he is just — he's all physics and algebra. It doesn't make any sense to him," Johnathon laughed. "His superhero skills are just – turns into steel, and his words are really big and he makes no sense whatsoever to Jonah Hex, so that's the [most fun] interaction."
Jonah and the Legends will fight Quentin and his gang in the episode, but Season 2's big, bad villains, may not be making an appearance.
"I don't think there's any interaction with the Legion of Doom in this," he said. "There may be parts of their understanding about the Legion of Doom coming, but there's nothing that – maybe Turnbill has a connection to them, but I'm not certain."
Johnathon filmed his return as Jonah earlier this fall, and he shared a time-lapse video of the prosthetics and makeup process on his Instagram. The length of time it now takes for them to get him in Jonah's trademark look, versus how long it took for Season 1, has greatly decreased.
"The first time, it felt like I was there for three and a half hours the first time," he said. "It got down, down, down and down. At one point, I think we got down to 44 minutes."
"DC's Legends of Tomorrow" airs Thursday at 8/7c on The CW.