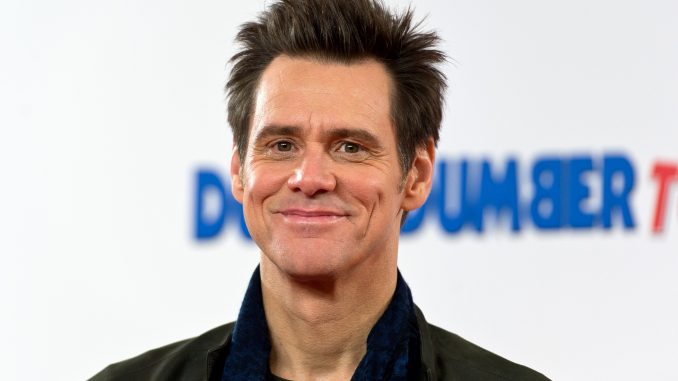 The estranged husband of Jim Carrey's late ex-girlfriend is making shocking allegations against the star related to her death.
Cathriona White, 30, was found dead in her Los Angeles home on September 28, 2015, from a reported suicide. According to documents obtained by Access Hollywood, Mark Burton, who was married to White at the time of her death, alleges that Carrey "used his wealth and celebrity status to illegally obtain and distribute highly addictive controlled substances" that contributed to her passing.
The complaint, filed in Los Angeles County courts on Monday, also claims the drugs include Ambien, Propranolol and "a massive dose of Percocet (Oxycodone)," which Burton claims had not been prescribed to White.
(Getty Images)
White and Carrey split after dating for a few months in 2012, and rekindled their relationship in May 2015. Burton and White were married in January 2013, according to Burton's lawyer, but a source told Access back in October 2015 that the couple was separated and White was planning to file for divorce.
At the time of White's death, the Los Angeles County Coroner Assistant Chief Ed Winter told Access that she was pronounced dead at 8:40 PM on September 28, 2015.
However, Burton's complaint claims that "Ms. White overdosed on the drugs on or about September 24, 2015 and died," which is four days prior to her reported suicide.
The date of White's death could be crucial for any future legal fallout, since Burton's complaint outlines the following scenario:
"As a part of his obsession with controlling and manipulating White, Carrey had the ability to monitor surveillance cameras 'on a home White often stayed at' and was able to view the residence remotely to keep track of her; and that sometime prior to September 28, 2015 [the day of her previously reported death], Mr. Carrey's assistant remotely checked the surveillance cameras and determined that White had last entered the home on September 24, 2015 but had not left for over a day, and Carrey nor his assistant alerted authorities."
In addition to claiming Carey and White were in a sexual relationship and that White died from drugs that were not prescribed to her, the complaint also includes the following bombshell allegations:
"The coroner determined that the drugs had been obtained by Defendant Carrey under a bogus name, 'Arthur King.'"
"Carrey conspired with a physician to illegally obtain the drugs with full knowledge that his conduct was illegal and fraudulent."
"Carrey sent a bogus text message to White [who was already deceased, according to the complaint], pretending he misplaced the drugs and insinuating that White may have taken them from Carrey without his knowledge, when in reality Carrey knew full well that he had voluntarily and illegally provided the fraudulently obtained and prescribed drugs to White days prior."
Burton further alleged that Carrey and his handlers made considerable efforts to publicize his "supposed generosity" to paint him as a "grieving good guy" and he had actually he never paid a dime of funeral expenses, instead reneging on his promise after learning she had left money to her family.
Access Hollywood has reached out to Carrey's reps for comment.
In a statement released to Access following Cathriona's death, Carrey said he was "shocked and deeply saddened" over her loss.
"She was a truly kind and delicate Irish flower, too sensitive for this soil, to whom loving and being loved was all that sparkled," his statement read at the time. "My heart goes out to her family and friends and to everyone who loved and cared about her. We have all been hit with a lightning bolt."
Carrey also served as a pallbearer for White's funeral, held on October 8, 2015, in her hometown of Cappawhite, Tipperary, Ireland.